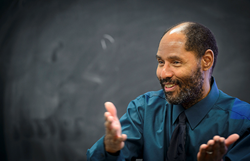 'Too many students choose a major based on something they were good at in high school, but didn't really enjoy. Try to think of things that you do well and enjoy,' - Bill Johnson
Greensboro, N.C. (PRWEB) August 20, 2014
If you're a college student and don't know what to major in, you're not alone. As many as 80 percent of college students don't know what to major in, and at least half of them change their major at least once, according to research by Penn State University and other institutions.
Bill Johnson, student success coordinator and personal development coach for the School of Health and Human Sciences at The University of North Carolina at Greensboro, says college students should give some thought to the following five questions to determine the best fit for a major, and ultimately the right career:
1. What do you do well and enjoy?
"Too many students choose a major based on something they were good at in high school, but didn't really enjoy. Try to think of things that you do well and enjoy," Johnson says.
Johnson recommends that you ask other people to share their thoughts on what you're good at doing. "Just make sure they share feedback on your skills and abilities, not potential jobs or careers," he says.
2. What energizes you and piques your interest?
"Think about the things that really engage you. What subjects or topics get you excited? As you decide, don't dwell on the job or money issue. Besides, most of you will end up changing your career several times in your lifetime," Johnson says.
Also use this question as an opportunity to identify new things to learn to increase knowledge or add new skills.
3. What do you enjoy reading about in books, magazines, newspapers, or on the Internet and social media?
During the day when you have a little down time, what do you think about the most? Do you dream about your future life, things you'd like to be doing for work? If you're on social media, what comments do you respond to most on Instagram, Pinterest or Snapchat? When you surf the Web, do you have a tendency to stop at certain sites more than others? And what have you bookmarked? If you read traditional sources like books, magazines, and newspapers, are there particular topics that pique your interest?
4. Who will benefit most from your help?
As you think through your life experiences, do you find yourself gravitating towards certain people or groups of people? Think about the times when you've helped people, either through volunteer work, jobs or other experiences where you've taken the time to help others.
5. What's driving your decision in selecting a major?
Your decision regarding a major may be influenced by your parents, current financial status, cultural expectations or other reasons. It might be useful to identify your values − those things that drive your actions and decisions on a daily basis. "Make sure to list the things you care about most and the things most important to you and select a major that provides balance among the various competing factors," Johnson says.
After responding to the questions, you may notice that a common theme emerges. If not, don't worry. Johnson recommends reviewing a list of majors offered at your university, then narrowing the options to no more than seven. Review the courses required for each program to help narrow your list further. You even can go as far as picking the major that has the course that sounds most interesting. For further assistance, make an appointment to speak to an advisor, coach or career counselor at your university.
"It often boils down to making a choice between something you're good at that pays well, but you may not particularly enjoy, and something you enjoy, but doesn't offer as many job opportunities. My advice is to go with the major that you'd enjoy. You'll do better in your classes and can find a way to create a job or side-gig around it," Johnson says.
A final tip: Johnson advises that at most universities, you can wait at least a semester or two before deciding on a major.
"Don't rush to select a major, only to change it later. In many cases, the major that you select in college doesn't end up being what you'll do for the rest of your life, so you might as well choose something you'll enjoy. You'll be more engaged and likely to graduate," Johnson says.
Bill Johnson is a student success coordinator, personal development coach and instructor for the University of North Carolina at Greensboro. He is a certified Dream Coach and Dream Coach Spiritual Group Leader with extensive training in Purpose Coaching and Wellness Coaching. For over 25 years, he has helped students, faculty and staff across the country find their purpose and pursue their dreams in life through workshops, retreats, conferences, courses, academic advising and career development. For more information, please visit his blog at http://thedreamdean.wordpress.com.
The University of North Carolina at Greensboro is a challenging, supportive and engaged community where learning is carried forward to Do something bigger altogether. Founded in 1891, UNCG is the largest and most diverse university in the Triad, serving nearly 18,000 students. Standing apart from other universities, the UNCG community is joined together by a shared value: We define excellence not only by the people we attract, but by the meaningful contributions they make.