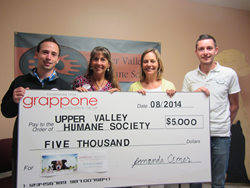 Bow, New Hampshire (PRWEB) August 21, 2014
The Grappone Automotive Group recently presented a $5,000 donation to the Upper Valley Humane Society as the first round winner in the annual Grappone Cares Contest on Thursday August 21st. The Grappone Cares Contest is put on by the Grappone Automotive Group in an effort to build strong relationships within its community.
The Grappone Cares Contest is a Facebook Contest that enables non-profit organizations to be nominated, and voted upon, by the more than 33,000 Grappone Facebook Fans, for the chance to win $5,000 through the Toyota Match Program. The Toyota Dealer Match Program enables dealer contributions to make a greater impact on the community. Since 1991, Toyota has contributed nearly $800 million to non-profit organizations, and has always been guided by a strong belief in serving the communities where it does business. The Grappone Cares Contest consists of four rounds. In order to be as diverse as possible; this year Grappone has broken up the contest into three themes with the nominations centered around; Families and Children in Need, Animals in Need, and Environmentally Focused Organizations. Each round will host a different theme.
The Upper Valley Humane Society, the second round winner, is a non-profit organization that works to prepare animals they take in for adoption into a loving home.
The Upper Valley Humane Society, located in Enfield, New Hampshire, has a mission to compassionately connect people and pets. For over 50 years the Upper Valley Humane Society has been providing services on average to over 1,600 animals and more than 3,500 people all across New Hampshire. In 2013, the Upper Valley Humane Society had a 91% placement rate which includes adoptions, transfers and returns to owners. They also served 2,226 animals last year. The Upper Valley Humane Society is one of the states leading shelters, receiving national recognition by the American Humane, the American Society for the Prevention of Cruelty to Animals, and the Humane Society of the United States.
Grappone Automotive Group is a family-owned business since 1924, located in Bow, New Hampshire. Their flagship Toyota store recently received its 20th president's award. Part of Grappone's five-year vision is to increase its philanthropic giving and volunteer efforts. "We are grateful to have such a great partner in Toyota, who also recognizes the value in giving back to the community," said Amanda Grappone Osmer, 4th generation owner.