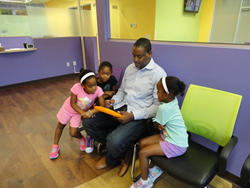 I am very pleased to open a practice that incorporates the use of technology and brings greater access to pediatric healthcare.
Kennesaw, Georgia (PRWEB) August 21, 2014
The timing is excellent. With more Georgian's having access to healthcare and more growth expected in Atlanta, many healthcare providers are opting to open their own practices.
That's just what Board-certified pediatrician Dekisha Drayton did in 2007 when she opened her first medical practice, Princeton Lakes Pediatrics in South Atlanta. Amid a tough economy, the practice flourished; and now, with the Affordable Care Act and a ripe climate for growth, Drayton has expanded her practice into Kennesaw along North Cobb Parkway.
"I am very pleased to open a practice that incorporates the use of technology and brings greater access to pediatric healthcare. I began my career in pediatrics in metro Atlanta more than ten years ago, and I am extremely elated and eager to offer my services to a growing population of children and families. As a growing practice, it's our goal to offer the most current and state-of-the-art services." Like Drayton, many other healthcare practices are seeking expansion and utilizing technology to do it.
As part of its expansion, Princeton Lakes Pediatrics is focused on improving patient outcomes and experiences by integrating Electronic Medical Records (EMR), tablets, and other patient-friendly technologies. The new practice will also focus heavily on utilizing the technology to offer personalized care that improves relationships and manages the expectations of parents and patients along with incorporating the results of customer surveys and research.
"After we did a customer survey in 2013, we knew that most of our patients are happier when their wait times at the office were lessened," says Drayton. In fact, recent studies indicate that nearly 63 percent of patients believe the amount of time spent in a waiting room is "very" or "extremely" important and patient satisfaction drops the longer a patient spends time in a waiting room. Princeton Lakes Pediatrics, and many other medical practices are using this type of data to find ways to improve their bottom line. The idea of integrating technology from check-in to check-out is being seen in many small practices nationwide. Utilizing technology systems like Phreesia, the practice will give patients a better experience during wait times by allowing them to complete patient history, signatures, content forms, and more. In some instances, the practice might even use the technology to administer relevant clinical assessments.
In the end, improvements in technology and customer care can prove to make the wait times at offices better and increase the quality of care given to children all over.