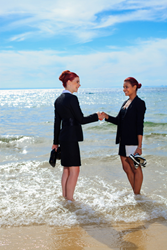 Kansas City, MO (PRWEB) August 20, 2014
Cruise Dreams Incentive Travel, a specialized travel agency that focuses on group and incentive travel, announced a new program today for group travel representatives. It's an unusual program in the industry because rather than looking for commission-only reps with travel experience, Cruise Dreams is looking for sales pros who have worked in or with specific industries that often reward employees or customers with incentive travel programs whether it be cruise or land programs at luxury resorts.
"What we're really looking for is that savvy sales person who's worked with insurance, product vendors, computer software, food industry, etc. who can open doors or cultivate relationships that allow us to provide a proposal highlighting the Cruise Dreams difference for sales meetings at sea, incentive cruise programs, incentive cruise programs, or all inclusive land programs at 5-star resorts worldwide," said Kim Gibbons, Founder and president of Cruise Dreams. "We'll do what we do best – design a unique program that exceeds clients' expectations without exceeding their budgets and deliver the 'WOW' with memorable excursions and events that we aggressively negotiate. Plus we'll add in some complimentary extras that save clients time and money."
"Group representatives do what they do best – sell a product – which in this case is the unique benefits of Cruise Dreams Incentive Travel, to contacts they already have," adds Gibbons. "Most reps find that easy to do and discover the 'learning curve' is a short one."
All they need to do is understand what sets this incentive travel company apart from others. There's no need to learn about destinations, ships, properties, negotiating, on-site staffing, etc.; most reps are earning commissions, much like an introduction or finder's fee, in a few short weeks. An introduction to a decision maker can easily net thousands of dollars or even tens of thousands.
With thousands of companies worldwide offering incentive travel for their top customers, sales team, board of directors, or others, this is a growing market. And with more company mergers and acquisitions, incentive travel programs to retain employees and/or customers are becoming more and more common so they won't be lacking for prospective clients.
Retirees may also be interested as a way to supplement their retirement or earn money to satisfy their travel lust. They can choose either to focus on incentive travel with contacts they already have or may use their personal connections to special interest groups to plan a group cruise and join the team.
For example, those with ties to gardening clubs, family reunion groups, square dance or other dance clubs, gourmet ,culinary or wine groups, alumni associations, etc. may find that connecting Cruise Dreams with the appropriate person can be a satisfying and profitable second career.
The initial response has been so strong that Cruise Dreams has set up a special email just for inquiries. GroupRep(at)cruisedreams(dot)com is the preferred email and will get additional attention for applicants.
# # #
Cruise Dreams, a niche travel company, specializes in individual, group travel, cruises and corporate incentive travel at sea or on land. Whether it is a cruise for two or twenty five hundred, or even a full ship or partial ship charter, a program at a 5-star all-inclusive luxury property world-wide, Cruise Dreams is known for our expertise, negotiating savvy, destination knowledge and exemplary customer service. For more information, visit http://www.cruisedreams.com or call 1-877-999-4533.