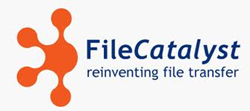 Ottawa, Canada (PRWEB) September 09, 2014
Unlimi-Tech Software, Inc., a pioneer in managed file transfers and the creator of FileCatalyst, the Emmy® Award winning accelerated file transfer solution, will be showcasing its new product updates at the upcoming IBC show, taking place from September 12-16 at the RAI Exhibition and Conference Centre in Amsterdam.
Exhibiting in booth H40 in hall 7, Unlimi-Tech will be demonstrating their newest product development, FileCatalyst TransferAgent. TransferAgent provides a pure HTML5 interface which allows users to browse their local or remote files in their web browser, select files for transfer, and initiate transfers, all without the use of browser plugins. This new method of transferring files gives organizations and end-users an opportunity to leverage the robust feature set of the FileCatalyst protocol from within a web browser, and allows files to be sent at speeds up to 10Gbps.
Daily, beginning Friday, September 12 and running through Monday, September 15, FileCatalyst's Partner Integration Manager, Elton Carneiro, will be presenting in the FIMS space, booth 10.F20. FIMS is the Framework for Interoperable Media Services project, created to define standards which enable media systems to be build. The goal is to use Service Orientated Architecture which will provide flexibility, efficiency, and scalability previously impossible with traditional architectures. Mr. Carneiro will be discussing how FileCatalyst can be used within a FIMS deployment to move files at accelerated speeds. The session will run for half an hour and will include an overview of the FileCatalyst platform and a question and answer portion.
FileCatalyst will also be hosting an open reception, occurring daily from September 12 thru September 15 in booth 7.H40. The company invites all those attending the show to stop by, introduce yourself, and enjoy a beverage. The reception will begin daily at 4:00pm.
"We are happy to be exhibiting again at IBC this year," said John Tkaczweski, Unlimi-Tech's co-founder and President. "A couple of years ago we announced our groundbreaking achievement of being able to achieve 10Gbps. This made us the fastest file transfer company in the world. Leading up to the show the team has been working diligently to ensure our new TransferAgent is released. We invite everyone to stop by our booth to get a peek of this new application and see what else makes FileCatalyst the world's fastest file transfer application."
About Unlimi-Tech Software, Inc.
Located in Ottawa, Canada, Unlimi-Tech Software is the creator of FileCatalyst, an Emmy Award winning accelerated file transfer solution. Founded in 2000, the company has more than a thousand customers in media & entertainment, energy & mining, gaming, and printing, including many Fortune 500 companies as well as military and government organizations. FileCatalyst is a software platform designed to accelerate and manage file transfers securely and reliably. FileCatalyst is immune to the effects that latency and packet loss have on traditional file transfer methods like FTP, HTTP, or CIFS. Global organizations use FileCatalyst to solve issues related to file transfer, including content distribution, file sharing, and offsite backups. To learn more visit http://www.filecatalyst.com or @FileCatalyst on Twitter.