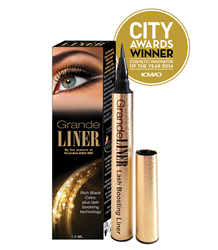 'I am fully committed to excellence in all of my products and this is just the beginning. Thank you, ICMAD and CITY Award Judges!' Alicia Grande, CEO
White Plains, NY (PRWEB) August 19, 2014
Grande Naturals, LLC is proud to announce they were named the winner of the 2014 Independent Cosmetics Manufacturers & Distributors Award (ICMAD). Grande Naturals took home the first place position in "Product Innovation; Product Color Cosmetic" for bringing to the marketplace specially-formatted eyeliner, which also includes a lash enhancement serum, GrandeLINER™. GrandeLINER™ offers a rich black color, plus lash-boosting technology.
This all-new eyeliner is a long-wearing, waterproof, black liquid eye liner that enhances lashes in 4-6 weeks. GrandeLINER™ is the ultimate smudge-proof, long-lasting, felt-tip liquid eye liner of its kind. Providing a rich black color to the lash line while delivering the exact amount of lash- boosting serum needed to improve the appearance of longer and thicker lashes within four to six weeks, GrandeLINER™ goes on in one steady stroke, conveniently applying a precise smudge-proof line. It can be used to create any dazzling eye makeup look for day or night.
The Award Ceremony took place on Wednesday, June 11 at an exclusive event in Battery Gardens. The winning brands represent the current best new breakout products, packaging and advertising campaigns in the industry. From cosmetics to package design, body care to social media, each new innovation stood out above the rest this year.
Winners were selected by five renowned judges and experts from the beauty, design and marketing industries. Judges included Ron Robinson, former cosmetics chemist and founder of BeautyStat.com, Maria Corbiscello, president of creative beauty concept firm Studio MC², Jerome Bérard of Bérard Associates strategic thinking consultants, Kaye Karch, vice president at BeautyMark Development and Lara Eurdolian, founder of PrettyConnected.com.
Senior Vice President and Global General Manager of Clarisonic, Dr. Robb Akridge, delivered the keynote address and offered words of wisdom and encouragement to all those in attendance.
Grande Naturals is known for superior technology which offers an enhancement solution for eyelashes. In addition to the award winning GrandeLINER™, GrandeLASH™-MD has developed several products, including a lash conditioner, which is a safe formula containing many natural ingredients. GrandeLASH™-MD improves the appearance of eyelashes by promoting length and fullness within four to six weeks. An estimated 89 percent saw definitive improvement in the appearance of their lashes, while 68 percent saw an increase in the appearance of lash density.
Concurrently, Grande Naturals' product line includes GrandeMASCARA, a lash-boosting and conditioning formula. GrandeMASCARA comes in black and brown and is comprised of an exclusive formula to Grande Naturals, made in Italy. This mascara offers a layer of silky-smooth ingredients to lashes during the enhancement process. By using GrandeMASCARA in combination with GrandeLASH-MD, consumers can achieve the most optimal lashes conceivable.
"Grande Naturals is absolutely thrilled to have been named 'Most Innovative Product/Product Color Cosmetic.' I took my vision and created a 'double duty' solution, consumers need. They need the product. They need the convenience," said, Alicia Grande, president & CEO of Grande Naturals, LLC. "I am fully committed to excellence in all of my products and this is just the beginning. Thank you, ICMAD and CITY Award Judges!"
<br>About Grande Naturals, LLC:<br>Grande Naturals, LLC is a parent company focusing on functional cosmetic products, including GrandeLASH-MD, GrandeMASCARA, GrandeLINER, GrandeBROW, GrandeHAIR and GrandeFACE Lift. GrandeLASH™-MD, was named the 2014 "Best Product" by Les Novellas Esthetiques & Spa as "Best Lash Conditioner". Additionally, GrandeLINER™-MD took home first place for Independent Cosmetics Manufacturers and Distributors (ICMAD) awarded the 2014 Cosmetic Innovator of the Year (CITY) Awards for "Best Product Innovation, Color Cosmetic". Grande Naturals, LLC and its products have appeared in Elle, Ladies Home Journal, New You, New Beauty, OK Magazine, Les Nouvelles Esthetiques, Dermascope, Los Angeles Times and many other publications within the Beauty Industry, as leading products of its kind. Visit http://www.grandelashmd.com to learn more.