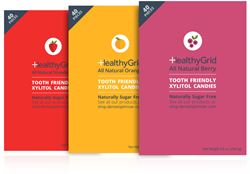 'These are tools that help you make the most of traditional dental care.' - Andrew Clapp of Healthy Grid
Portland, OR (PRWEB) August 21, 2014
Healthy Grid recently announced the premier of their new Tooth-Friendly Candy made from the sugar substitute Xylitol. The chemical makeup of Xylitol deprives harmful mouth bacteria of the sucrose they need to grow, and its slow metabolization makes it safer for those with diabetes.
Xyltiol is a natural sweetener typically extracted from either birch bark or corn. It is considered to be one of the best-tasting sugar substitutes and is also known for maintaining authentic consistency in baking. Xylitol is gaining attention because it is less harmful to one's teeth than sugar and it actually helps combat decay.
The oral bacteria that cause decay (streptococcus mutans is among the most common) thrive on sugar to grow. This is one of the main reasons dentists often recommend brushing as soon as possible after eating sweets or at least drinking a glass of water. Xylitol's chemical composition doesn't feed the harmful bacteria and it stimulates saliva which helps keep other sugars from sticking to teeth. According to the experts at Healthy Grid, long-time use of Xylitol will create a healthier oral environment for the user, leading to less decay and fewer cavities.
"We're excited to bring out the Xylitol candy in tandem with the Loloz (cavity-fighting lollipops)," said Healthy Grid's Andrew Clapp. "We want to expand options for reducing decay and therefore reduce the pain and cost of treating problems." Clapp stressed that neither of these candies is a substitute for regular brushing, flossing, or dental checkups. "We want to be very clear: the old rules still apply. These are tools that help you make the most of traditional personal dental care."
Xylitol carries the additional benefit of safety for those with diabetes. Xylitol doesn't require insulin for metabolization and therefore reports a lower glycemic response than sucrose or glucose. Healthy Grid strongly suggests that those with diabetes consult their doctor before making a Xylitol a regular part of their diet and follow instructions carefully.
Other non-oral health benefits stem from Xyltiol's low caloric count versus regular sugar. Xylitol has about 40% fewer calories than similar amounts of sugar and 75% fewer carbohydrates, so it likely will have lower consequences for those struggling with weight issues.
The Xylitol candies offered by Healthy Grid come in three flavors: strawberry, orange, and berry. Clapp explains that they're easy to use, "We designed the candy around the idea that they need to be exposed to your teeth for a few minutes so the main rule is: don't bite through them. That will make them less effective. Otherwise, just think in terms of spreading them out through your day. We expect that people who make a point of enjoying a piece after each meal will have better success combating decay."
Clapp explains that in addition to fostering positive overall health, Xylitol tastes good too. "We read all of the reviews and determined that Xylitol was indeed a cavity-fighting sweetener that we could make into a fasntastic little treat. Individual tastes, of course, vary, so we're encouraging the curious to try it out. If you like the Xylitol candies, we're certain that your teeth will thank you."
Healthy Grid's Xylitol candy is available for pre-order through their popular Dental Optimizer site as well their Xylitol page. Dental professionals and retailers can apply for a wholesale discount at http://www.healthygrid.com/wholesale.