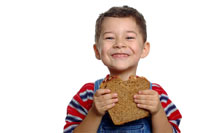 'The sound nutrition in whole grain breads helps children focus on their studies...healthy body equals healthy mind,' states, Sheila McCann, Founder of House of Bread.
San Luis Obispo, California (PRWEB) August 21, 2014
House of Bread products are orientated to be a healthy part of a child's nutrition program to combat obesity.
RunFit is a not-for-profit organization designed to help youth of all sizes, fitness and ability levels utilize the discipline of running to improve health, build character and provide opportunities for children to showcase their talents by participating in a number of RunFit sponsored events throughout the community," said RunFit founder Stephen Pino. "Before, During and Afterschool programs such as RunFit play a vital role in the lives our communities by keeping kids' safe, creating healthy habits and helping working families."
House of Bread baked goods are a natural part of a healthy lifestyle that provides sound energy. Good whole grain carbohydrates will benefit a young athlete, or any athlete, to obtain their fitness goals. RunFit makes running fun, and House of Bread makes eating healthy fun too!