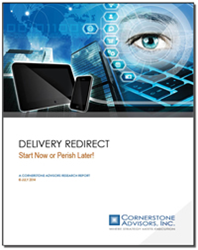 Migrating transactions saves money, but migrating buying decisions saves the bank.
Scottsdale, Arizona (PRWEB) August 20, 2014
In a call to action to financial institutions, a research report newly released by management consulting firm Cornerstone Advisors, Inc. warns that unless banks and credit unions begin realigning their delivery channel resources, their chances of surviving beyond 2020 are slim.
Delivery Redirect: Start Now or Perish Later! was issued by Cornerstone Advisors in response to its research and consulting engagement insights confirming that while overcoming regulatory and competitive pressures is currently an area of focus for financial institutions, what is even more important right now is for banks and credit unions to reshape their business models and delivery strategies.
Findings include:

The median number of branch teller transactions per month dropped 24% at mid-size banks since 2010 and continues to rapidly decline.
Citing a recent Federal Reserve study, 33% of all mobile phone owners have used mobile banking in the past year, and 38% of mobile bankers deposited checks using their mobile phones, nearly doubling from 2012.
The reduction in branch traffic is creating fewer in-person opportunities for financial product purchases.
In a key theme, the report stresses that the need for financial institutions to migrate interactions and client acquisition has taken precedence over basic financial transactions. To reinforce this message, the publication proposes a new mantra for FIs: "Migrating transactions saves money, but migrating buying decisions saves the bank."
"This is really about realigning a bank's channels and resources to support its customers' financial buying decisions in the future," said Cornerstone Advisors Research Director David Potterton. "Tough choices are necessary and important in the planning process."
Acknowledging that there is no single "right answer" for how delivery should be configured, the report presents five Delivery Redirect Spectrums that illustrate possible channel mix strategies banks can adopt in preparation for 2020 as well as five major mandates for a delivery channel action plan.
According to the report, financial institutions have to decide which channel segments will provide future growth and which deserve a "handshake and hearty good-bye." "There is no time to waste," Potterton said.
Cornerstone CEO Scott Sommer pointed to the usable aspect of the study. "Delivery Redirect is about action," he said, "and Cornerstone Advisors encourages banks and credit unions to take advantage of our years of experience working with financial institutions and begin implementing the report's practical guidance."
Cornerstone team members will cover selected excerpts of the study in speaking engagements at upcoming industry events, including ABA's Marketing & Retail Conference, BAI's Retail Delivery Conference and the CUES School of Product & Channel Management.
Founded in 2002, Cornerstone Advisors, a management consulting firm focused exclusively on mid-size banks and larger credit unions, provides an array of customized solutions designed to assist financial institutions with their Strategic, Performance, Technology, Contract, Payment and Channel initiatives. The Cornerstone team founded industry renowned GonzoBanker and authors The Cornerstone Performance Report, a series of seven authoritative benchmarking and best practices studies for both mid-size banks and credit unions.