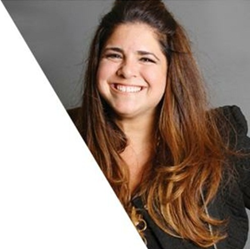 Los Angeles, CA (PRWEB) August 20, 2014
Is 3D printing a perfect fit for the fashion industry?
That was the question on the table earlier this week, as noted industry forecaster Wendy Bendoni – Chair of the AACSB-accredited Fashion Marketing program in the School of Business at Woodbury University – led "How 3D Printing Is Redefining Design and Manufacturing," the first-ever panel session on 3D printing at the world's most extensive fashion sourcing event. Sponsored by Women's Wear Daily, SOURCING at MAGIC is a four-day mega trade show held twice a year in Las Vegas.
In addition to Bendoni – who was named a "key influencer" during WWDMAGIC – panelists included Natacha Alpert, 3D conceptualist at Miras3d, and Bryan Oknyansky, London-based 3D shoe designer and Woodbury School of Architecture alumnus. The forum is renowned for presenting the fashion industry's new trends and innovations, the most sought-after technologies, and Hollywood costume designers. Over the past nine years, SOURCING at MAGIC has brought more than 800 companies from a wide range of industries such as accessories, footwear, jewelry, lingerie, apparel, bedroom textiles, carpets and rugs, and many others.
An assistant professor of fashion marketing at Woodbury, Bendoni has been an international trend forecaster for more than 20 years, having developed some 280 trend/consumer reports for clients, including Nordstrom, JCPenney, OP, BCBG, Levis, C&A, Target, Honda, Stila Cosmetics, Victoria's Secret, and Guess. As a fashion and lifestyle forecaster, she assists retailers and manufacturers as they develop design concepts and gain insights on consumer behavior. In 1998, she founded the Los Angeles division of WGSN and ran it for more than eight years.
"3D printing is hitting the fashion industry, no question about it," said Bendoni, who also moderated the costume panel at WWDMAGIC. "The advent of this technology, and the extreme customization it enables, is definitively having an impact on fashion. Leading shoe, apparel, and jewelry designers are now using 3D printing to prototype design in order to save production and time-to-market costs. It will be fascinating to see to what extent 3D printing permits those in the industry to grow their bottom line, and to watch what 3D design and innovation will do for retailers and brands."
Bryan Oknyansky is a 3D shoe designer who retails under the name "Shoes by Bryan." In 2013, he designed the "Split Heels," the world's first eco-friendly, customizable and wearable 3D printed high heels, and presented them at the 3D Print Show in London. Earlier this year, Oknyansky released a new set of shoes 3D printed in metal, the "Heavy Metal Series," for the Muuse and Vogue Talents competition.
Natacha Alpert has been in the footwear industry for the past 14 years, working creatively with iconic brands, including Nine West, Timberland, Reebok, and Dr. Marten's. Focusing on 3D printing in fashion, she founded Miras3d, a consulting company that links and connects iconic brands with a vision to create innovative products to leaders in the 3D printing industry.
Woodbury's School of Business offers a unique Bachelor of Business Administration (BBA) in Fashion Marketing, which extends beyond design and merchandising to encompass such diverse paths as fashion director, fashion forecaster, social media marketer, brand specialist, and fashion journalist among others. The Fashion Marketing program is among the select few such programs to receive accreditation from the AACSB (Association to Advance Collegiate Schools of Business) and is also accredited by Western Association of Schools and Colleges (WASC) and Association of Collegiate Business Schools and Programs (ACBSP).
About Woodbury University:
Founded in 1884, Woodbury University is one of the oldest institutions of higher education in Southern California. Woodbury offers bachelor's degrees from the School of Architecture, School of Business, School of Media, Culture & Design, and Institute of Transdisciplinary Studies, along with an MBA program, Master of Architecture (MArch), Master of Science in Architecture (MSArch), and Master of Organizational Leadership. The San Diego campus offers Bachelor of Architecture, Master of Real Estate Development for Architects (MRED), and Master of Science in Architecture, Landscape, and Urbanism degrees. Visit http://www.woodbury.edu for more information, and Reflections on Excellence, a twice-monthly blog written by Woodbury University President Luis Maria R. Calingo, Ph.D.