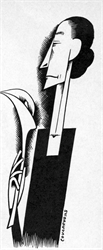 Santa Fe, New Mexico (PRWEB) August 19, 2014
The Georgia O'Keeffe Museum is pleased to announce an exhibition of the artwork created by Mexican artist Miguel Covarrubias (1904-1957) that reveals his influential role in a global network of modernists, including Georgia O'Keeffe. He is best known for his lively caricatures of famous figures published in stylish New York magazines during the 1920s and 1930s. However, the primary purpose of this exhibition, organized by the O'Keeffe Museum and appearing exclusively in Santa Fe, is to define the breadth and significance of Covarrubias's contribution to the history of modern art. The show will run from September 27, 2014 through January 18, 2015.
The artwork of Miguel Covarrubias was powered by his life-long practice of moving between modern cities and remote sites of ancient and traditional arts. Traveling widely during the 1920s and 1930s, Covarrubias moved between Mexico, New York, Europe, Africa, and Bali, and later returned to Mexico during the 1940s to research and write about Tehuantepec. The exhibition presents artwork that links Covarrubias's commercial art, scholarly publications, and studio practice as well as his friendships with Diego Rivera, Edward Weston, and Georgia O'Keeffe, among others to demonstrate the cosmopolitan modernism of his life and work.
"This exhibition traces the breadth of Covarrubias's intellectual and artistic interests as well as his friendship with O'Keeffe, making an original contribution to our understanding of modernism and expanding our sense of O'Keeffe's world," according to Carolyn Kastner, curator of the Georgia O'Keeffe Museum. He began a friendship with Georgia O'Keeffe in 1929, when both artists were guests at the Taos home of Mabel Dodge Luhan. Though O'Keeffe was a generation older than Covarrubias, they shared many professional as well as social experiences. Both were part of an international, intergenerational cluster of artists in New York, a group that formed the cornerstone of the emergent modernist aesthetic. Thus, their relationship is an enormously productive place to analyze the significance of the avant-garde circles of modernism, where their careers flourished as well as their friendship.
The Covarrubias exhibition reinforces the long-standing cultural and artistic ties between Mexico and the United States. The Consulate of Mexico in Albuquerque is supporting the exhibition. Mexico Consul Mauricio Ibarra Ponce De Leon stated, "As part of the continued efforts to promote Mexican culture, the Consulate of Mexico in Albuquerque is honored to be able to support the Georgia O'Keeffe Museum for the exhibit of internationally renowned Mexican artist and painter Miguel Covarrubias, [which] shows the importance the Mexican government gives to cultural issues as a vehicle for promoting closer cooperation and understanding of the links that bind Mexicans and New Mexicans."
The opening lecture of the exhibition will be given by Khristaan D. Villela, PhD, consulting curator for the exhibition and professor of Art History and scholar in residence at the Santa Fe University of Art and Design. The lecture is titled, "Miguel Covarrubias, Artist, Archaeologist, and Curator: Modernism from Mexico City to New York and Back." A catalogue of essays will accompany the exhibition, including an introductory essay by Kastner. Essayists include Janet C. Berlo, who analyzes Covarrubias's substantial scholarship on the indigenous art of North America; Villela, who describes Covarrubias's contribution to Pre-Columbian studies; and Alicia Guzman, who discusses mural maps painted by Covarrubias for the 1939 San Francisco World's Fair, as modern hybrids of abstracted geographic features populated with a diversity of caricatures.
ABOUT GEORGIA O'KEEFFE MUSEUM:
To inspire all current and future generations, the Georgia O'Keeffe Museum preserves, presents and advances the artistic legacy of Georgia O'Keeffe and modernism through innovative public engagement, education, and research. Opened in Santa Fe, New Mexico in 1997, the Museum counts O'Keeffe's two New Mexico homes as part of its extended collection. The Museum's collections, exhibitions, research center, publications and educational programs contribute to scholarly discourse and serve a diverse audience. For more information please visit http://www.okeeffemuseum.org/.
ABOUT THE EXHIBITION:
Miguel Covarrubias: Drawing a Cosmopolitan Line was organized by the Georgia O'Keeffe Museum and made possible with generous support from The Burnett Foundation. Additional support for this exhibition and related programming was provided by The Ministry of Foreign Affairs through the Consulate of Mexico in Albuquerque; Linda Marcus; New Mexico Arts, a division of the Department of Cultural Affairs, the National Endowment for the Arts, and the Santa Fe Arts Commission and the 1% Lodgers' Tax.