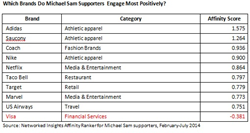 By tapping into millions of conversations on social media, companies can now determine how well a celebrity aligns with their brand and what message will best resonate.
CHICAGO (PRWEB) August 20, 2014
With the start of the NFL season just around the corner, a study by marketing analytics company Networked Insights predicts that Adidas would be the best brand to sign an endorsement deal with the league's first openly gay player.
Using the Affinity Ranker in its SocialSense platform, Networked Insights found that Michael Sam's supporters identify most positively with the athletic apparel company out of thousands of possible brands. Other companies high on the list of potential sponsors include Saucony, Netflix and Marvel.
So far, only Visa has signed Sam to an endorsement deal. But Networked Insights' data shows that the credit card company actually has a below-average affinity score with Sam supporters – meaning Visa is making a risky move sponsoring the controversial St. Louis Rams defensive end.
Rick Miller, vice president at Networked Insights, said the fact that the companies most likely to benefit from a relationship with Sam haven't signed him illustrates the complexity of figuring out how a celebrity sponsorship will affect brand image.
"Some brands may still be reflecting on whether to employ Sam because they're not sure how customers will respond," Miller said. "By tapping into millions of conversations on social media, companies can now determine how well a celebrity aligns with their brand and what message will best resonate."
To come up with its rankings, Networked Insights analyzed almost 800,000 conversations on the social web between February, when Sam came out as gay, and his July speech at the ESPY Awards. The Networked Insights Affinity Ranker tool uses a scale of 3 to -3, with any score above zero indicating a positive affinity between Sam's followers and a brand relative to the general population – meaning an endorsement deal would be a good fit.
Of the thousands of brand analyzed, Adidas landed at the top of the list with an affinity score of 1.575 – a very high score that indicates a good opportunity to sign a celebrity endorser – while Visa's score landed near zero – or neutral.
The Networked Insights analysis also discovered how consumers have been discussing Sam since his announcement earlier this year. The conversions have largely focused on his athletic ability, meaning an endorsement isn't necessarily an opportunity for a brand to make a statement about gay rights.
"While Visa is taking a risk on Sam given how Sam supporters relate to the brand today, the company nailed the message in its 'How you should judge Michael Sam' spot by focusing on his achievements and abilities," Miller said. "For good sponsor candidates, the brand message they tie to Sam will be as important as the decision to sponsor him. The wrong message will fail, even if the brand is the right fit."
A cross-index analysis of brands that Sam supporters respect shows recognition for the brands' past stances on LGBT issues. Nike, rumored on the social web to be making a legitimate play for Sam, is one brand that stands out.
"Nike's #BeTrue line, which directs proceeds to the LGBT Support Coalition, is an obvious but authentic relationship for Sam," said Shaliza Kassam, a Networked Insights analyst who mined the Sam data.
About Networked Insights
Networked Insights, which enhances consumer data from the social web to be decision-ready for brand marketing professionals, helps companies make more effective marketing decisions by providing them a real-time window into brand, consumer and competitor behavior. The SocialSense marketing decisions platform provides companies with easy-to-use and powerful technology to identify audiences, discover customer interests, get instant campaign feedback, assess brand health, track purchase behavior and measure sales lift. Over the past seven years, Networked Insights has provided solutions to enterprise clients such as GE, MillerCoors, P&G, General Mills, Revlon and Viacom. Learn more at http://www.networkedinsights.com.