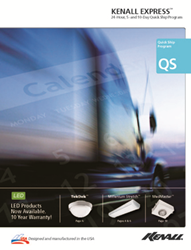 With an increasing demand for our LED products, offering expedited shipping on our most popular products is a way for us to meet customers' needs when timing is critical for the success of their projects. Jim Hawkins, CEO
Gurnee, IL (PRWEB) August 22, 2014
Kenall Manufacturing, a leading provider of commercial lighting solutions, has added its most popular LED products to its quick ship program, Kenall Express, for when time is of the essence.
New to the program are the following LED products:
•Millenium™ Stretch – a flexible lighting system that offers an attractive solution where performance, aesthetics, minimal maintenance and durability are concerns.
•Millenium™ Downlight – delivers high abuse lighting in a traditional architectural style and photometric distribution for general area lighting and unsupervised areas.
•TekDek™ - provides superior glare control; ideal for reducing hazardous glare in parking garages while providing high efficacy and uniformity.
"We pride ourselves with providing the highest level of customer service in the lighting industry," said James Hawkins, President, Kenall Manufacturing. "An important measurement of that service is our ability to meet our customers' delivery requirements. With an increasing demand for our LED products, offering expedited shipping on our most popular products is a way for us to meet customers' needs when timing is critical for the success of their projects."
Kenall Express offers shipment of the most often ordered products for times when a situation calls for critical, time-sensitive projects or last minute changes.
Three expedited shipping options include:
•24 hour - This shipment service provides our most popular high abuse fixtures – Millenium Stretch™ LED, Millenium™, Herculux™ and Metrex™ luminaires in 24 hours
or less.
•5 DAY - When timing is not as critical, this shipping service offers 5 day shipping on additional fixture models including Millenium™ LED Downlight and TekDek™ LED parking garage luminaire.
•10 DAY - Exclusive to Kenall is a 10-day Express Program specifically designed for Correctional and Sealed Enclosure applications. Products in this program include 6-inch MedMaster LED Downlight for MRI suites, Mighty Mac™ Correctional and SimpleSeal™ Sealed Enclosure product lines.
For additional information, download the brochure from the literature section at http://www.kenall.com, call 1-800-4-KENALL or email info(at)kenall(dot)com
*****
About Kenall Manufacturing
Since its inception in 1963, Kenall Lighting, located in Gurnee, IL has been known for superior quality, exceptional value, and durable solutions, and it is proud to provide sealed lighting for containment or clean spaces, security lighting for detention facilities, and specialized healthcare and transportation applications. Kenall products are designed and manufactured in the USA and meet the guidelines established under the Buy American Act and the North American Free Trade Agreement. For additional information, visit http://www.kenall.com.
#####