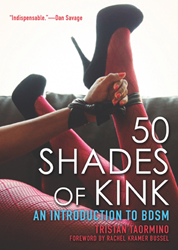 "Everything You Need to Know to Get Your Kink On."—Rachel Krame Bussel, editor of The Big Book of Orgasms
(PRWEB) August 20, 2014
The Huffington Post UK featured Tristan Taormino and her beginner's guide to BDSM 50 Shades of Kink in a recent lifestyle piece "How To Introduce BDSM To The Bedroom With Duct Tape And A Spatula."
Taormino listed ten easy tips for introducing BDSM to a partner, such as "Communicate your fantasy through writing" and "Choose your soundtrack carefully." On the topic of restraints, she cautions, "Although you might think it looks cool, avoid metal chain of any kind; like zip ties, metal against delicate skin is a recipe for sore wrists. Neckties, silk (or silky) scarves, and bathrobe ties are all much better choices. They are a good length for wrist and ankle bondage, and they're soft, so they won't cut or irritate the skin."
Tristan Taormino lays out the best ways to make fantasies into reality in 50 Shades of Kink, her newest primer to erotic exploration. It's both the perfect beginner's guide and a wonderful refresher course. Whether getting up close and personal with blindfolds, crops and paddles or just looking for some inspiration to keep things fresh in the bedroom, 50 Shades of Kink is the perfect playbook.