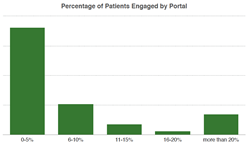 "A lot of money is at risk in the form of Medicare and Medicaid reimbursements if providers can't make this work.
AMERICAN FORK, Utah (PRWEB) August 21, 2014
Only 20 percent of healthcare providers currently meet a key patient engagement requirement of the Affordable Care Act according to a new report.
Over 200 healthcare leaders participated in the report by responding to a request from Smart Data pioneer peer60. Participants reported many solutions used to engage patients may lead providers to violate privacy laws in many states.
"Reaching the ACA's requirements for patient engagement is possible, but many hospitals and clinics are failing to do so in part because it isn't an easy thing to do. It's similar to the 'last mile' dilemma in the Telecom industry – until you get patients to really engage in the process, you're really just going through the motions in healthcare reform," peer60 CEO Jeremy Bikman said. "A lot of money is at risk in the form of Medicare and Medicaid reimbursements if providers can't make this work."
In order to receive Medicare and Medicaid benefits from the Electronic Health Records Incentive Program, healthcare organizations must engage at least 10% of their patients. Chief Medical Officers and other provider leaders reported that while most healthcare organizations are struggling to reach the 10% patient engagement rate required to receive these incentives, some are achieving over 20% patient engagement through patient portals.
The report details many features that are missing in existing patient portals, including the ability to protect information that some states require be withheld from guardians of children (i.e. pregnancy tests).
"This report is extraordinary because a large amount of information was collected from over 200 key decision-makers in a very short time period," peer60 Sr. Director Tyler Page said. "Unlike other publicly released reports, this information is incredibly current and actionable."
The report is available for a complementary download at http://research.peer60.com/patient-portals/.
About peer60
A pioneer in Smart Data, peer60 is committed to helping businesses acquire crucial market and customer data in a timely, affordable manner. peer60's platform enables companies to receive four times the response rate in a quarter of the time, reaching relevant audiences all around the world. Companies around the globe are already getting Smart Data from peer60.
About These Reports
This is the first in a series of complementary reports peer60 will release on the state of healthcare. peer60 is releasing these reports to fill a need in the market and to show what is possible with its Smart Data platform. Be sure to watch for additional reports released throughout the remainder of the year.