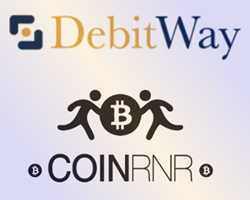 Our pricing is now set to match Bitstamp's 24h high price in order to provide better predictability for the users.
Montreal, Quebec (PRWEB) August 21, 2014
The Concord, Ontario based Canadian cryptocurrency merchant; CoinRNR.com has been helping Canadians bridge the gap between fiat and crypto coins since December 25th, 2013 and by virtue of its Raleigh, North Carolina based division; CM Technologies, LLC, CoinRNR has also been servicing American clients.
CoinRNR's mandate is to facilitate the transition from "Fiat Money", to today's more modern digital currency like Bitcoin (BTC) and to do so as efficiently as possible by eliminating long wait periods and unnecessary delays. "Fiat Money" is a currency that derives its value from government laws or regulations, in laymen's terms it is a currency that governments have decreed to be "legal tender" but that is not based on physical commodities like precious metals. The risk with "Fiat Money" is that it can always succumb to country's population's faith in it. Should the population lose faith in their "Fiat Money", it effectively becomes worthless.
CoinRNR.com offers helpful tools for users looking to both buy and sell Bitcoins on its website, including an informative video guide. "Our pricing is now set to match Bitstamp's 24h high price in order to provide better predictability for the users," attests CoinRNR owner Mazin Khoury.
The addition of the IOP option provided by the Montreal, Canada based certified payment provider DebitWay.ca, will now allow users to conduct transactions with CoinRNR in real-time and eliminate the previously, mandatory visit to a financial institution. Whereas in the past, users would have had to take cash and in turn deposit it into one of CoinRNR's accounts, extending wait time, now users can make their transactions instantly.
With cryptocurrencies like Bitcoin ushering in a new online currency era for the new millennia, it makes sense to have a certified internet payment provider like DebitWay linked to a cryptocurrency services. CoinRNR.com has shown that it is in tune with the needs and demands of internet users by giving them the ability to easily purchase or sell Bitcoins in real-time thanks to DebitWay's certified IOP service.
With over ten years of experience in online processing services and a stringent attention to security and efficiency, DebitWay has been linking internet merchants to a safe, real-time payment service with undeniable efficiency.
Headquartered in Montreal, Canada, since 2004, DebitWay continues to be one of the leading Payment Service Providers in the world, as well as a Certified Payment Provider of INTERAC® Online Payment (IOP) solution in Canada. DebitWay merchant partners continue to benefit of being able to accept bank payments in real-time instantly.