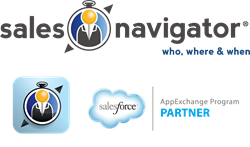 "Providing the power to optimize all aspects of a user's daily appointment and visit schedule ensures that sales and service teams maximize their visits daily."
Parsippany, NJ (PRWEB) September 18, 2014
The Casey Group today announced it has launched a major update to its popular Sales Navigator for Salesforce iPad application.
Now available on the Salesforce AppExchange, the newest release of the Sales Navigator app includes the patent pending Sales Navigator Schedule Optimizer.
Schedule Optimizer enables field sales and service professionals to optimize their daily schedules, including both set and "drop in" appointments, with the choice to optimize by time, distance, or a combination of both. A user simply selects their starting location, ending location, and any stops in between. With a tap of the "optimize" button, the app, within seconds, will present the user with the suggested schedule of events for the day and maximize their productivity.
Sales Navigator is a "mobile first" iOS app that provides a seamlessly integrated geospatial view of Salesforce standard and custom objects combined together with iOS calendars. Sales Navigator mobilizes Salesforce data so key information is always available, synced and updated as sales and service professionals make new entries from the road. While a user must be online to sync their information, most Sales Navigator capabilities are available when working offline.
Built on the Salesforce Platform, the world's leading cloud platform for social and mobile business apps, Sales Navigator is currently available on the Salesforce AppExchange at http://www.appexchange.com.
Comments on the News
"Providing the power to optimize all aspects of a user's daily appointment and visit schedule ensures that sales and service teams maximize their daily visits," said Richard Casey, president and CEO of The Casey Group. "The potential increase in sales and customer satisfaction by being able to visit just one more client or prospect every day has a huge effect on productivity and subsequently on ROI. Based on valuable feedback from our 36,000 users utilizing the app in 16 languages across 107 countries, Sales Navigator is an app that sales and service teams embrace to give them a competitive advantage in the enterprise arena."
"We are very proud to be a bronze exhibitor at Dreamforce and welcome attendees to visit us at booth 2226 in the Cloud Expo North at the Moscone Center in San Francisco from October 12-16, 2014, to view a live demo of the new release of Sales Navigator," said Jerry Auriemma, Chief Marketing Officer of The Casey Group.
Product Key Features
Sales Navigator helps transform sales organizations into customer companies by boosting their sales team productivity while in the office and while on the go. Sales Navigator helps sales teams plan, manage, and close more deals. In addition to Schedule Optimizer, the app's other new robust features include the ability to:
Visualize & Mobilize your Data: Planning your upcoming day just became easier as users can import and view, group and filter accounts, leads, opportunities, as well as custom objects from Salesforce on a map. View daily sales and service routes to locate nearby opportunities to increase efficiency.
Optimize your Daily Sales & Service Schedule: By optimizing not only their route, but their entire day's schedule, users can spend as much time as possible seeing targeted clients. Sales Navigator dynamically updates your route using your current location to give you up to the minute info on your ETA, distance, travel time and directions between stops.
Take Charge of your Daily Activities: Manage and log critical customer interactions—set task priorities, set due dates and task status, make notes, send emails, complete calls, and view websites—all from within the iPad app while syncing key information back to Salesforce, all while on the go.
About The Casey Group
In business, the company behind the app is as important as the app itself. The Casey Group is an award winning company and a provider of business and technology solutions, since 1989. Serving clients ranging from small local professional services companies to Fortune 100 customers, the company has deep enterprise experience on a variety of technology platforms/areas including IBM Power Systems, Mainframes, Java/JEE technologies, Microsoft technologies, Business Intelligence solutions, Amazon Cloud (AWS), CRM systems (such as Salesforce), Apple iOS and more. The range of services provided include: application development and management, systems integration, production support, managed IT infrastructure, IT assessment, cloud computing, Legacy modernization and IT resourcing.
The Casey Group has an award winning culture and customer first mindset as evidenced by it being named one of the Best Places to Work in NJ for four consecutive years (2011-2014). Sales Navigator has received multiple awards and was named a 2013 Top 10 CES Mobility App and a 2013 Top 5 Tabby Award for Business Productivity. Sales Navigator is currently a finalist in the 2014 Silicon Valley Business App Awards.
The Casey Group is a Microsoft Gold partner, IBM Advanced Business partner, and a Salesforce ISV partner. Additionally, The Casey Group is a Business Cabinet member of the Morris County NJ Chamber of Commerce, a founding member of the NJ Technology Council and a member of the NJ State Chamber of Commerce.
Salesforce, AppExchange and others are among the trademarks of salesforce.com, inc.