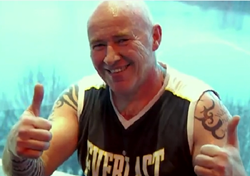 I was only 21 when my liver stopped working and I almost died. I tell them my story. They can see I know what I'm talking about.
(PRWEB) August 19, 2014
Just back from Glasgow where he helped distribute thousands of The Truth About Drugs Booklets at the Commonwealth Games (July 23 – August 6), Pete Dwan is a man with a mission—to help kids stay off drugs. And the need for his work cannot be overstated.
According to UK Home Office, nearly 850,000 people age16 to 59 consumed Class A drugs within the last year. And that doesn't take into account those abusing New Psychoactive Substances (NPS) drugs considered to be "legal highs" until June 2014, when the UK government re-classified them as permanently controlled Class A substances under the Misuse of Drugs Act 1971.
At age 22, Dwan nearly died of alcohol and drug abuse. In a video filmed in his boxing studio, the tattooed Manchester native tells how Scientology changed his life.
"Since I started doing Scientology I've got lots of interests I didn't have before," he says. "I've actually started up my own club, I've started up my own business, bought my own house—life got better."
Part of this change is a program he runs called "The Kombat Kids." Dwan, who won the British Thai Boxing title 13 years ago and has represented England in international competitions, teaches kick boxing to kids of the ages of seven to twelve in inner city youth centers and housing associations to help them gain self-confidence and a sense of discipline.
"I know what it means to have a problem with drugs," says Dwan. "I was only 21 when my liver stopped working and I almost died. I tell them my story. They can see I know what I'm talking about."
Dwan says that since he became a Scientologist, the training and spiritual counseling has made an enormous difference in his life. He credits Scientology for the energetic enthusiasm he feels about the future.
"It's fun, man," he says. "You know, 99 percent of the time I'm smiling. And it's only because of Scientology."
View the Pete Dwan video on http://www.Scientology.org.
The popular "Meet a Scientologist" profiles on the Church of Scientology International Video Channel at Scientology.org now total 200 broadcast-quality documentary videos featuring Scientologists from diverse locations and walks of life. The personal stories are told by Scientologists who are educators, teenagers, skydivers, a golf instructor, a hip-hop dancer, IT manager, stunt pilot, mothers, fathers, dentists, photographers, actors, musicians, fashion designers, engineers, students, business owners and more.
A digital pioneer and leader in the online religious community, in April 2008 the Church of Scientology became the first major religion to launch its own official YouTube Video Channel, which has now been viewed by millions of visitors.