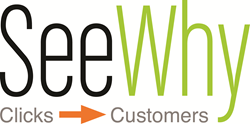 Boston (PRWEB) August 25, 2014
SeeWhy, an SAP Company, today announced that ICON Health & Fitness, an innovative leader in the fitness industry, has achieved significant results using SeeWhy Ad Manager, doubling the ROI of the company's previous ad retargeting efforts and positively impacting online conversion and sales.
With online visitor conversion critical to ICON's long-term growth and success, and no room for waste in its advertising budget, the company needed a retargeted advertising solution that would help to nurture consumer relationships with its existing brands while introducing new product lines. The ICON online marketing team sought a partner that could provide display ad retargeting as an overlay or accompaniment to other retargeting efforts, then worked with several companies to implement solutions for retargeting display ads, but none performed well.
Following proven success using SeeWhy Conversion Manager for shopping cart abandonment email remarketing, ICON turned to SeeWhy and its newly released Ad Manager product. SeeWhy Ad Manager is a SaaS solution for retailers and ecommerce companies that uses Real Time Bidding (RTB) to target ad spend on the highest value visitors and makes campaigns more cost-effective by bidding on, buying and measuring only the ad space needed. Unlike click-through attribution models that disregard the impact of other marketing efforts, producing skewed results, SeeWhy's Ad Manager uses a control group to measure campaign performance, so that only the lifted revenue is measured.
"We are extremely pleased with the results we've seen with SeeWhy thus far," said Mark Thatcher, director of online marketing at ICON Health & Fitness. "SeeWhy has doubled the ROI of our previous ad retargeting efforts and is an integral part of our business plan moving forward."
Previously, ICON's retargeting efforts had been siloed, making it difficult to manage the customer experience and not providing a single view of the customer reengagement. The SeeWhy team developed a plan that combined Conversion Manager and Ad Manager to produce a comprehensive remarketing strategy.
This strategy provided a cross-channel approach for ICON, integrating display ads and retargeting emails to reengage customers with ICON's products and brands. The use of a control group provides ICON with clear, reliable data about consumer behavior, so that ICON can gauge the exact revenues generated by each campaign—and therefore measure each campaign's success.
"Today, ICON is able to run retargeting campaigns year-round and achieve optimal results through the combined power of Ad Manager and Conversion Manager," said Charles Nicholls, chief strategy officer at SeeWhy. "Our initial test results concluded suppressing ads when a person could instead be targeted via email maximized the ROI. This allowed ICON to make the ad budget more efficient and gave them a single point of control for a customer's retargeting experience."
Founded in 1977, ICON Health & Fitness offers a comprehensive line of state-of-the-art fitness products, including Incline Trainers®, treadmills, elliptical machines, stationary bikes, home gym equipment, yoga and Pilates equipment, hand-held exercise accessories, and performance apparel under a variety of brands, including Nordic Track, Pro-Form, and Weider.
About SeeWhy
SeeWhy, an SAP Company, is the leading real time remarketing company. More than 4,000 of today's top brands and retailers choose SeeWhy's products to rapidly improve conversion rates by automatically triggering the right marketing message on the right channel at the right time to drive conversions. The company's eCommerce conversion products pre-integrate with more than 40 of today's top ad, ecommerce, email service providers, web analytics services, and social networks to create a single automated platform for optimizing each website visitor's path to purchase. SeeWhy's products deliver the highest ROI in eCommerce, recovering more than a billion dollars annually in lost sales for leading companies like Belk, Bare Escentuals, Columbia Sportswear, Guthy-Renker, L'Oreal and The Land of Nod.
SeeWhy, SeeWhy Ad Manager, SeeWhy Conversion Manager, SeeWhy Browse Manager, SeeWhy CORE, Real Time Remarketing Company, and the SeeWhy logo are trademarks of SeeWhy, Inc.