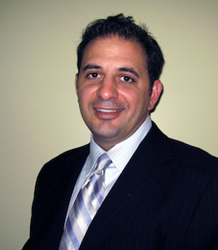 Our mission is to provide the same high-caliber treatment and service experienced by professional athletes to you, our most trusted and valued patients.
Irvine, CA (PRWEB) August 21, 2014
Dr. Vasili Gatsinaris, president and co-founder of American Corporate Health, was recently recognized as one of the top 50 most influential professionals in the field of workers' compensation.
The list compiled by the National Workers' Compensation and Occupational Medicine Conference was created by polling thousands of practitioners, including attorneys, physicians, nurses, case managers, disability specialists, physical therapists, rehabilitation nurses, rehabilitation counselors, and workers' compensation specialists.
Dr. Gatsinaris' career as a Doctor of Chiropractic and qualified medical evaluator includes 13 years of experience with high-powered corporate clients and professional athletes at his Irvine practice, Next Level Wellness Center.
Known as "Dr. Vas," Gatsinaris also played a key role in building Next Level Fitness into a respected provider treating pro athletes, including Hall of Famers and numerous others in golf, baseball, basketball and other sports. In particular, he achieved exceptional results with overuse injuries and repetitive trauma disorders, shoulder joint conditions, and knee injuries. As a result, he received accolades from top sport franchises in the NBA and MLB.
Today, as co-founder of American Corporate Health, he applies that experience to a new brand of "corporate sports medicine." This high-performance approach has led Gatsinaris to design OSHA best practice programs that reduced workers' compensation and medical claims 70% at multiple Fortune 500 including Magnaflow, Parker Hannifin, and more.
About American Corporate Health:
American Corporate Health provides wellness and healthcare services to a wide variety of corporate clients, managing over 15 providers throughout the nation at 18 different corporate facilities. Services include wellness and prevention therapy programs that dramatically reduce workers' compensation cases and medical costs, including surgeries, injections, medications, and physician interventions.
Those interested in contacting Dr. Gatsinaris or learning more about American Corporate Health may do so by contacting him using the phone number attached to this press release.