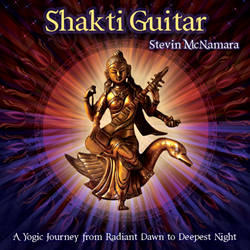 Seriously good. - Lotus Guide Magazine | A virtuoso on the acoustic guitar…webs of intrigue with six strings, variously invoking moods of heroism, mystique, love and romance with a simple, unassuming grace and finesse. - Bhakti Beat
Boulder, Colorado (PRWEB) August 21, 2014
Stevin McNamara's original approach to guitar music is based on the concept of raga, the traditional form of music that has existed in India for centuries. Literally meaning "that which colors the mind," raga is not only a scale or some fixed sequence of notes, but is considered a living musical entity. When correctly performed — at the appropriate time of day or season of the year — it is believed that a spiritual connection between raga and musician occurs, in its turn creating an unique "sound manifestation" between the performing artist and the listening audience.
With his new album SHAKTI GUITAR: A YOGIC JOURNEY FROM RADIANT DAWN TO DEEPEST NIGHT (September 23, White Swan Records), Stevin uses the raga form to interpret the full time spectrum of a day, with a shimmering song cycle evoking the sun's path from the radiant dawn of sunrise to the stillness and peace of the wee hours of night. "Shakti" connotes the concept of the essential life force and creative energy – specifically the energy of the Divine Feminine – into which yogic consciousness taps. This concept is reflected in the album cover's central image of Saraswati, the Hindu goddess of learning and music.
"Stevin McNamara lets his rhythmic groove flow with primordial energy." - LA Yoga
With the solid rhythm foundations of renowned master drummer Christo Pellani, and special guests including the acclaimed Indian-American singer Sheela Bringi; Grammy-winning bansuri flautist Steve Gorn; noted producer/remixer Ben Leinbach and the virtuosic North Indian vocalist Mala Ganguly, the album frames the guitar's gentle sound with delicate vocals and instrumentation. Two bonus tracks – remixes by McNamara/Pellani and by Leinbach – will enhance the digital version of the recording.
Stevin McNamara's musical path commenced when he began learning guitar and piano at the age of seven. He pursued his playing with a passion, immersing himself in the sounds of his native South Africa's local township jive, mbaqanga style and gospel choirs, as well as jazz, blues and rock imported from the US and England. He played in an early band with super-producer-to-be Mutt Lange, before moving to the U.S. in 1971 to study at Boston's renowned Berklee College of Music.
A newfound love for Indian music led him from guitar to sitar, which he subsequently studied with Ram Chakravarty at Wesleyan University in Connecticut. McNamara soon gained a reputation as a multi-talented studio musician, and frequent recording sessions sparked his curiosity for what was happening on the "other side of the glass." This fascination led to yet another passion, and he set aside his instruments to take a seat at the controls, employing his well-trained ear to help bring to life the musical visions of others.
Working with former bandmate Lange to record the likes of Def Leppard, Tina Turner and Bryan Adams was a quantum leap forward for Stevin's music and production skills, which eventually landed him in Boulder, Colorado, where he quickly established himself as the go-to mastering engineer in the Denver metro area, and where he also worked as chief recording engineer for audio publisher Sounds True.
The growing popularity of east-west musical fusions, propelled by the explosion of interest in meditation and yoga practices across North America, inspired Stevin to resume his own creative activity and share the music of his mind's ear – so in 2000 he returned once again to playing, letting the music speak instead of the production. What he performs is not traditional North Indian Classical repertoire, but rather a distinctive musical style that he's developed for himself over many years of work. It is heavily influenced by the idiom of Indian raga that he loves, but it is an entirely original and personal creative statement in itself. His work has recently appeared on several compilation albums, including Putumayo's ubiquitous World Yoga.
SHAKTI GUITAR is Stevin's seventh solo album and his third for the Boulder-based White Swan Records label – home to some of the best-loved and best-known devotional music artists in the world. His previous White Swan releases are Shanti Guitar (2012) and Prana Groove (2011).
Today, Stevin and his family live in Ashland, Oregon.
Track Listing:
1. Salutation
2. Greeting the Dawn – Part 1 (Alap) (Rag Jogiya)
3. Greeting the Dawn – Part 2 (Theme) (Rag Jogiya)
4. Sungod Dance (Rag Sarang)
5. Shakti Sunset - Part 1 (Alap) (Rag Bhimpalasi)
6. Shakti Sunset – Part 2 (Theme) (Rag Bhimpalasi)
7. Sun Moon and Stars (Rag Khamaj)
8. Heart of the Lotus – Part 1 (Alap) (Rag JhinJoti)
9. Heart of the Lotus – Part 2 (Jor) (Rag JhinJoti)
10. Heart of the Lotus – Part 3 (Theme) (Rag JhinJoti)
11. Midnight in the Darbar (Rag Chandranandan)
12. Prajna's Dream (Rag Malgunji)
13. Midnight in the Darbar (Remix – Bonus track for digital album)
14. Rajna's Dream (Remix – bonus track for digital album)