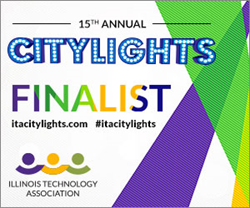 'We are excited to be included in this category, among all the great companies mentioned, and look forward to continue to develop technology that sets us apart from the competition.'
Chicago, Illinois (PRWEB) August 20, 2014
INXPO has been selected as a finalist for Illinois Technology Association's 2014 ITA CityLIGHTS Outstanding Technology Development award. Being named a finalist for this award has solidified INXPO as a leader in providing Webcasting and Online Event solutions.
The winners for each of the eight categories will be announced at the ITA CityLIGHTS Awards on Thursday, September 18, at Morgan Manufacturing in Chicago. Each year, ITA CityLIGHTS attracts more than 600 people from 400 organizations including business owners, investors, legislators and policymakers.
The public can contribute to the selection of this year's winners including the category INXPO has been named a finalist for by voting from August 19–September 8 at itacitylights.com. Winners will be determined by composite score (50 percent judges; 50 percent community voting) in all categories except the CityLIGHTS Award, which is determined solely by the ITA Board of Directors.
A panel of accomplished judges representing the Who's Who in Illinois technology reviewed nominations to select the finalists. This year's judges hail from major organizations including Fieldglass, Google, HERE, and World Business Chicago. The list of past winners includes Gogo, Groupon, NAVTEQ, and Braintree, among others.
INXPO's CEO Malcolm Lotzof commented, "We are honored that the judges of the 15th Annual ITA CityLIGHTS Awards have recognized our innovation and achievements by selecting INXPO as a finalist for this year's Outstanding Technology Development Award. This award is a true reflection of our customers and the influence they have on making our company great. We are excited to be included in this category, among all the great companies mentioned, and look forward to continue to develop technology that sets us apart from the competition."
"Even after 15 years, I am still awe of the caliber of finalists and companies we get to celebrate each year," said ITA CEO Fred Hoch. "Our CityLIGHTS program is about raising the bar for the future of Chicago tech and I'm proud to say it gets a little higher and harder every year – sky's the limit for INXPO as far as I'm concerned."
About INXPO
INXPO's next-generation webcasting and online event solutions helps organizations communicate in a more interactive manner with their employees, customers, prospects, partners, and members. Serving more than 3,000,000 audience members globally, INXPO's webcasting and online event solutions are robust enough to exceed your technology requirements, but interactive and flexible enough to meet the needs of your audience.
To learn more about how INXPO can fit into your organization's communications strategy, please visit http://www.inxpo.com, email us at contactsales(at)inxpo(dot)com, or call us at (312) 962-3708. Follow INXPO on Twitter at https://twitter.com/INXPO and view our LinkedIn page for the latest news at https://www.linkedin.com/company/inxpo.
About the ITA
The Illinois Technology Association (ITA) is an enabling organization powering the growth of tech in Illinois. Through vibrant programs, services and strategic consulting, the ITA drives our dynamic industry by working to grow, build and elevate our members. For more information, visit http://www.illinoistech.org, follow the ITA on Twitter at http://www.twitter.com/itabuzz, and view the ITA's Facebook profile at http://www.facebook.com/illinoistechnology.