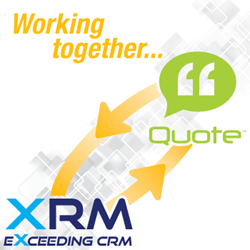 Clearwater, FL (PRWEB) August 19, 2014
AutoLoop, LLC, announced today that Quote, its popular equity mining tool, is now integrated with CAR-Research's CRM tool, known as XRM, one of the industry's most customizable and user-friendly CRM software solutions. AutoLoop acquired Houston-based CAR-Research in June 2014.
"Dealerships who use XRM are now able to access equity customers from Quote within the XRM program," said Steve Anderson, AutoLoop CEO. "Since Quote now feeds data directly to XRM, dealers can manage sales quotes and benefit from equity mining without switching back and forth between the two programs. And because of this direct integration, dealerships can now build custom workflows to ensure proper process is followed by their sales team."
AutoLoop Quote focuses primarily on equity mining, automatically generating highly targeted real-time offers based on customer data such as mileage estimates, resale values, service history, rates and incentives, as well as dealership inventory. This equity mining allows dealerships to maximize their DMS by successfully selling to already existing customers instead of spending time and money acquiring new prospects. Now, as a result of integrating Quote with XRM, dealerships will be able to do even more with their time by effectively using the Quote engine through their custom CRM workflow, ultimately leading to more sales and improved customer service, Anderson added.
"No other company has a product that integrates with XRM like our Quote product does," said Anderson. "We are making dealers' jobs easier by streamlining their software solutions. Being able to seamlessly access Quote data from within XRM is invaluable."
About AutoLoop:
Since 2005, AutoLoop's commitment to "Retention Through Engagement" has helped automotive dealerships nationwide increase sales, improve client retention and achieve overall higher satisfaction ratings. With an all-encompassing platform that monitors customer DMS activity in real-time, AutoLoop automatically triggers personalized custom messages through voice, email, SMS and direct mail to precisely targeted customers. An Inc. 500 company with over 35 million names in our database and nearly a billion individual communications initiated, we're passionate about making AutoLoop America's best customer retention partner for progressive dealerships.