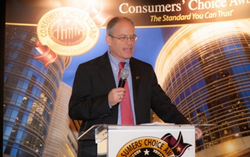 'The Consumers' Choice Award is excited to be promoting our new voting initiative on WXIA TV,' says company president, Jeffrey Chernoff. 'It will make the process even more democratic,' adds Chernoff.
Atlanta, Georgia (PRWEB) August 20, 2014
The Consumers' Choice Award, which identifies and promotes customer service excellence in local markets, is launching its 15th year in Atlanta. There is, however, a new twist on the voting process.
Traditionally, the polling was the exclusive domain of Survey Sampling International (SSI), a consumer research company based in Connecticut. Although the Consumers' Choice Award will continue to employ SSI and their registered respondent panel, voting will be augmented by allowing all residents to opt into the voting process.
The voting site, VoteAtlanta.biz, will allow residents to vote for their favorite Atlanta businesses across six industry categories. These will include services for Home, Business, and Personal needs. The voting site will be promoted on WXIA TV, also known as 11 Alive; an NBC affiliate. A three-week campaign will encourage viewers to cast their vote online. The campaign will also utilize digital marketing and social media initiatives to promote the voting site.
Once online, consumers are asked to consider criteria such as service, professionalism, and value when considering their choices. Winning companies will be based on the combination of votes from the SSI panel and residents going to the VoteAtlanta.biz website.
As a result of this new campaign, it's expected that over 15,000 votes will be gleaned in the process. The media buzz generated by the campaign will also help further the brand of Consumers' Choice Award in the marketplace.
Winning companies will be invited to a Winners' Breakfast in Atlanta late next month. A venue and date has not yet been announced.
Established in 1987, the Consumers' Choice Award® identifies and promotes businesses that deliver customer service excellence. The Consumers' Choice Award® has retained a leading independent research firm to conduct surveys in U.S. cities; Columbus, Atlanta, Dallas and now Cincinnati. The winners are determined by consumers and not by a panel of judges. The survey covers a broad range of categories of interest to both the public and business communities. Its purpose is to publicly identify those establishments that have been voted by consumers as being their choice for excellence. The Consumers' Choice Award® is the most prestigious tribute to local businesses that serve their communities well. The program is encouraged by all levels of government and by business leaders. Find out more about The Consumers' Choice Award® by visiting http://www.consumerschoiceaward.com.