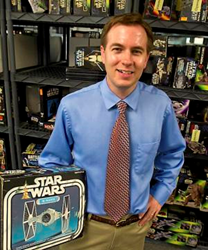 Degrees from a prestigious school like MIT do not grow on trees. What Brian did took guts.
Lake Jackson, TX (PRWEB) August 20, 2014
This week on The Collectors Show, Brian Semling tells how his Star Wars collection morphed from a nice memory of childhood into a multi-million dollar business. Brian is the owner of Brians Toys, an Internet based business that sells new and vintage toys and action figures. Brian began his business in high school. In the 20 plus years since then, he has turned his collection into a global business. The Collectors Show can be heard on Web Talk Radio (http://www.webtalkradio.net) or iTunes.
From Movies To Collecting
Semling who is 37 years old, was born too late to experience the first three Star Wars movies in theaters. So it was during a visit to a friends' house to watch "Return of the Jedi" and a look at his buddy's impressive "Masters of the Universe" collection that he connected some dots from his early childhood. As he discusses with host Nicoll, his earliest memories of Star Wars were much earlier. He had owned Star Wars toys and Halloween costumes as a youngster but had sold those items at a garage sale. Seeing his friend's collection, he then wanted them back. So he started his quest to recapture those remembrances of childhood and did so, very successfully.
From Collector To Business Owner
Semling's collecting was so successful that later in high school he started his own mail order business from his parent's home. Business was good. So good in fact that Semling dropped out of MIT to run his business full time. "I thought that took a lot of courage," said Harold Nicoll, host of The Collectors Show. "Degrees from a prestigious school like MIT do not grow on trees. What Brian did took guts. I wonder how many of us have that kind of confidence in ourselves and in our futures to do what he did?"
In the time since high school, Brian transformed his hobby into a successful family business. He has expanded his enterprise to include more than Star Wars and now deals in other vintage and in some cases new toys that include G.I. Joe, Transformers, Masters of the Universe and other Comic Book, TV and movie themed action figures. He has customers in all 50 states and 100 countries.
The Future
Brian tells host Nicoll about an App he is designing that will allow collectors the opportunity to scan a barcode on one of their toys and receive a report on it. This replaces cumbersome Excel spreadsheets and bound price guides.
And if you are concerned that he sacrificed his education, fear not. Brian did finish college at Winnona State University in Minnesota with a degree in history. To visit Brian's Toys on line, go to http://www.brianstoys.com.
To hear The Collectors Show, visit http://www.webtalkradio.net. The official web site of The Collectors Show is http://www.collectorsshow.net.