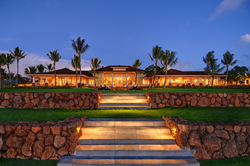 "We are thrilled by the market's growing interest in Kukui'ula. Our strong sales momentum highlights the appeal of our community's casual, down-to-earth spirit," said Kukui'ula President Richard Albrecht.
Kauai, HI (PRWEB) August 20, 2014
Kukui'ula, the leading luxury resort community on Kaua`i's south shore, continues to attract homebuyers seeking an exclusive, yet relaxed lifestyle in Hawaii. There have been more than $39 million in closed sales transactions and another $36 million under contract to-date in 2014. Closed sales transactions in the first half of the year resulted in Kukui'ula surpassing its 2013 total sales.
"We are thrilled by the market's growing interest in Kukui'ula. Our strong sales momentum highlights the appeal of our community's casual, down-to-earth spirit," said Kukui'ula President Richard Albrecht. "Ongoing positive member feedback along with recent accolades in Robb Report Best of the Best, Islands and Golf Magazine are great indicators that the Kukui'ula experience is resonating. Our buyers are investing in their families and themselves when they choose the incredible lifestyle and charm of old Hawaii on Kaua`i in an unparalleled luxury resort. We're proud to provide this unique offering in today's second home market."
Several renowned architects and builders recently announced new projects at Kukui'ula, further establishing the oceanfront community's diverse collection of designs and inventory, including internationally recognized architects Shay Zak, Hart Howerton, Peter Vincent and acclaimed resort developer East West Partners.
Kukui'ula offers an expansive selection of custom homesites starting in the $800,000s and plantation-style bungalows from $1.5 million. The homesites provide owners the ideal opportunity for custom, one-of-a-kind homes that showcase the island's natural mountain-meets-sea beauty with lush gardens and landscaping. Meanwhile, authentic Garden Island-style bungalows and cottages range from one to three bedrooms and feature contemporary interiors with expansive indoor/outdoor floor plans. Situated near the Plantation House and Spa at Kukui'ula, the homes provide convenient access to Kukui'ula's exquisite dining, impeccable spa, fitness center, several pools with waterfalls and slides, Tom Weiskopf designed golf course and more.
The Club offers residents access to extensive amenities, including The Plantation House, with cascading pools and panoramic ocean and sunset views. The Farm at Kukui'ula boasts a wide selection of fresh produce that owners can pick to enjoy in the Club's dining venues, as well as tropical flowers they can cut for their homes. The Island Pursuits program makes it easy for members to take advantage of the great outdoor adventures available on Kaua`i, including snorkeling, diving, fishing, surfing, paddle boarding, as well as hiking to numerous mountain ridges and waterfalls. Adjacent to The Plantation House, The Spa at Kukui'ula is a 20,000-square-foot sanctuary featuring abundant opportunities for fitness, relaxation and rejuvenation. The Golf Course at Kukui'ula, a private 18-hole championship course designed by Tom Weiskopf, offers expansive ocean views and follows the natural flow of the land through the surrounding coffee fields, rolling hillsides and ocean bluffs of Kukui'ula.
About Kukui'ula®
Kukui'ula is developed by Kukui'ula Development Company (Hawaii), LLC, an affiliate of DMB Associates, Inc. ("DMB") and A&B Properties, Inc. DMB is a Scottsdale, Arizona-based diversified real estate development and investment firm (http://www.dmbinc.com) and a highly acclaimed leader in creating successful legacy communities in the western U.S. for more than 20 years. A&B Properties is the real estate subsidiary of Alexander & Baldwin, Inc., one of Hawai'i's largest private landowners (http://www.abprop.com) and most respected companies. A&B Properties is a leader in real estate development and management in Hawaii. For more information on Kukui'ula, visit http://www.kukuiula.com or call 1-808-742-0234.
NOTICE: Obtain the Property Report required by Federal law and read it before signing anything. No Federal agency has judged the merits or value, if any, of this property.