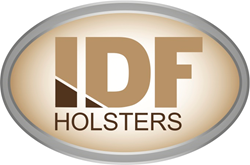 Farmingdale, NY (PRWEB) August 20, 2014
IDFholsters.com, the holster superstore launched in May, continues to expand beyond its selection of over 3,000 holster models. This month, the site added Maglula Ltd.'s entire product line of tools for loading and unloading magazines to its growing inventory.
Since 2001, Maglula has manufactured professional military-grade tools for loading and unloading pistol and rifle magazines. Currently used by the Israeli military, their products save valuable time at the range, field and armory, and prevent pain associated with loading and unloading magazines. Maglula products also reduce weapon jams by avoiding damage to magazine lips. They currently hold six U.S. patents associated with magazine loaders.
IDFholsters.com offers the entire Maglula product line, including LULA™, UpLULA™, StripLULA™, BenchLoader™, X10-LULA™ and V10-LULA™. With its factory-direct approach, IDFholsters.com offers exceptional values to consumers because it eliminates retail mark-ups or additional distributor fees.
The IDFholsters.com team said, "We are very pleased to be a full-line carrier of Maglula products. Most other online retailers only offer certain products or top sellers. We carry the entire Maglula line. It's our goal to become a complete source for tactical equipment and weapon accessories. Leading manufacturers, such as Maglula, are eager to partner with us because they recognize the value in selling directly to consumers."
About IDFholsters.com
Designed to satisfy any shooter's possible need, IDFholsters.com was developed in partnership with Front Line, the official holster supplier of Israel's military and law enforcement. Navigating by handgun model or material and style makes it easy to browse the ever-expanding inventory of over 3,000 models. State-of-the-art inventory controls allow for easy purchase and prompt delivery. Launched in May 2014, the site continues to grow with an increasing selection of tactical equipment and weapon accessories.
About Maglula Ltd.
Launched in Israel in 2001 by the father-and-son team of Ran and Guy Tal, Maglula Ltd. is a privately held company dedicated to the development of high-quality loader and unloader tools for military and civilian use.
Contact:
Mark Torres
info(at)idfholsters(dot)com
(631) 880-3396 ext. 310
IDF Holsters
170-20 Central Avenue
Farmingdale, NY 11735