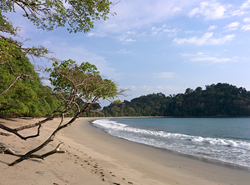 Manuel Antonio, Costa Rica (PRWEB) August 20, 2014
In 1984, the President of Costa Rica, Luis Alberto Monge, declared the 24th of August "National Parks Day" in order to preserve the fauna and flora of this country, as well as urge in people the importance of these areas as a source of life and the need to take care of them for future generations. To facilitate exploration of the national parks, a key component of National Park's Day is the official waiving of entrance fees for visitors to all national parks.
The 28 national parks spread around the territory represent approximately 12% of the country's physical area, and consist of 16,000 hectares (39537 acres) in total area. Many of them are wild tropical forests with just a few facilities for visitors, and others, like the National Park of Manuel Antonio are much more developed and tourist friendly.
During this special day, schools teach young people about the protection of natural resources and the importance of sustainable tourism. Some public organizations and hotels, like the Tulemar, hold a special "tree planting ceremony". Every year, the gardeners of Tulemar plant 20 trees as part of the hotel's participation in the celebration
Tulemar, a 33 acres gated resort with its own secluded beach, is located only five minutes away from the Manuel Antonio National Park, one of the most visited park of Costa Rica, which also supports a substantial number of hotels and private vacation rental homes. Manuel Antonio National Park is well known for its large amount of wildlife including two species of sloths, various lizards and reptiles, white-faced or capuchin monkeys and the endangered endemic species of squirrel monkeys. Tulemar is also only one hour away from the Carara National Park, one of the best places to see scarlet macaws in Costa Rica.
For 30 years, National Parks Day has fulfilled the mission of allowing people to discover and explore the hidden beauty of Costa Rica while raising awareness of the importance of sustainable tourism and preservation of wild areas.