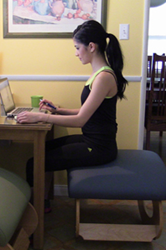 Burbank, CA (PRWEB) August 21, 2014
For many of us, August marks a sort of return to reality after a summer of late nights, lazy days, and beach vacations. The start of the school year means returning to routines and discipline and all that other un-fun stuff.
And, according to a study published in the Journal of American College Health (2008) there is a significant amount of low back pain among college students, which can contribute to students feeling sad, exhausted and overwhelmed.
Not only do college students need to learn the lesson of how to fit 300 square feet of belongings into 100 square feet of living space, but sitting at a desk for long hours of work and study goes hand in hand with back, neck and shoulder discomfort.
Having The Body Archer in their college dorm or residence can really help make those long hours less stressful while doing double duty to promote a healthy back. Invented by a certified massage therapist and approved by top orthopedists and physical therapists, The Body Archer offers spine and upper body stretching while also functioning as a super comfortable chair. It is designed to increase flexibility, improve posture, and relieve back, neck and shoulder pain, leaving you feeling relaxed and reinvigorated!
About Body Archer LLC:
The Body Archer was invented by a certified massage therapist and developed for the retail market by Body Archer LLC to help millions of Americans prevent and relieve back pain. The company's mission is to educate consumers on the short and long term benefits of maintaining a flexible body and spine, and sitting in a healthier way.The Body Archer is manufactured in the company's home base of Los Angeles, California using high quality materials including a thick, comfortable foam arch, reinforced sturdy wood undercarriage, anti-slip rubber rocking surfaces, and antibacterial fabric. http://www.bodyarcher.com