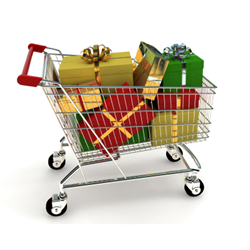 With nearly a third of all consumers saying they'll start shopping before Halloween, getting a jump start on holiday sales and marketing is a must for just about every local small business.
Seattle, WA (PRWEB) August 19, 2014
In a matter of days, school supplies, student clothing and other back to school retail items will give way to tinsel, ornaments and holiday gift options on the shelves of retailers nationwide. About 30% of holiday shoppers say they will start researching and buying gifts before Halloween – and some even before Labor Day. Retailers who rely on strong holiday sales should already be looking for ways to jump start seasonal sales.
Retailers often use our merchant cash advance or business cash advance finance alternatives to add seasonal lines of products to their shelves in order to attract more holiday shoppers and boost revenues during the winter months. Since a local or small retail business might earn up to 40% of their total annual revenue from holiday sales, finding ways to compete with big chains and larger competitors is key.
Small business marketing author Elizabeth Kraus recently provided us with a list of six retail holiday marketing ideas retailers can employ in order to introduce holiday promotions to their customers without annoying those who are not ready to begin thinking about holiday shopping just yet. In addition, she recommends that retailers keep these four things in mind to make the most of the upcoming holiday selling season.
Plan Holiday Retail Promotions with Profitability in Mind
When a retailer discounts regular products or services to boost holiday sales, they diminish their profit margins accordingly. It might make more sense to introduce special items that will only be sold during holiday months, than to discount regular merchandise or services.
For instance, when Starbucks® re-introduces pumpkin, gingerbread and other holiday favorites each fall, they do so at regular prices. While some of the corresponding holiday revenues come from regular patrons, others come from coffee-lovers who come in only (or more often) during holiday months to consume these specialty drinks.
Leave Cookie Cutter Thinking in the Kitchen
Holiday shoppers feel a strong sense of déjà vu as they walk into store after store each offering – essentially – the same items as the others. Why try to compete with big box, chain and other larger competitors on their turf? Stock shelves with unique and intriguing items that will make for one of a kind gift options for local customers.
Be Bold About Making Specific Suggestions
As a local small business merchant, you may know that your store's gift cards are valued by teachers and coaches, but your customers may not. You may have added the perfect holiday gifts for that hard to please mother-in-law, finicky friend or caring co-worker, but unless you spell it out for holiday shoppers, they might not make the connection.
Use the email campaigns, social media updates, direct mail circulars and in-store signage posted during the holiday season to provide specific suggestions to holiday shoppers about what they should buy, for whom.
Give Your Business a Way to Bounce Back
Local and small business retailers that bring in new customers during the holiday shopping season can do better than a one and done. Be sure that you have a way to collect contact information so that you can remind these new patrons about what made your store special and give them a reason to return in the future.
***
Founded in 2009 and headquartered in Seattle, Washington, DB Squared is a wholly-owned subsidiary of a 30 year old private consumer finance company specializing in business cash advance financing and receivables financing (or invoice factoring). For more information, visit DBSquaredInc.com.