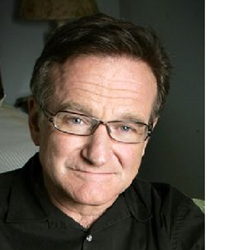 Albany, Ohio (PRWEB) August 21, 2014
August 11: – Robin William's suicide was reported indicating that he took his own life by hanging, likely due to long-term depression.
August 13: Sharry Edwards, the foremost BioAcoustic Vocal Profiling investigator, appeared on the Joyce Riley Power Hour radio show offering novel information concerning Williams' death; hoping to help people understand why he chose not to stay. Several issues relevant to Williams' suicide were proposed in terms of BioAcoustic Biology: Using vocal frequencies to distinguish physical and psychological issues of health and awareness.
Three pertinent BioAcoustic findings shared on the Power Hour radio show , prior to the public announcement that Williams' suffered from Parkinson's, indicated that Williams' may have committed suicide because of the threat of serious mental decline due to a cognitive degenerative disease; possibly Alzheimer's.
1. Williams' vocal frequencies showed a biomarker indicating that Gamma-Amino Butyric acid (GABA) metabolism, the chief inhibitory neurotransmitter, was stressed. This may account for his lovable but often manic communication style.
2. Additionally, numeric representations for acetylcholine (an important neurotransmitter) were stressed.
3. Frequency Equivalents™ representing Lewy proteins associated with mental degeneration were present. Lewy proteins are associated with both Alzheimer's and Parkinson's.
Moreover, Williams' vocal profiling showed that depression may not have been the major cause of the suicide; his voice indicated that degenerative factors were significantly present and could have been a contributing factor.
August 14: The day after Edwards' announcement on national radio about Williams' possible motive, Susan Schneider, Williams' wife, announced that he was suffering from Parkinson's but that he was not yet ready to share that publicly. Schneider's statement to the public explained, "It is our hope in the wake of Robin's tragic passing that others will find the strength to seek the care and support they need to treat whatever battles they are facing so they may feel less afraid."
After Schneider's announcement, Edwards again appeared on the Power Hour and revealed additional information that had been gleaned from William's vocal analysis; including the fact that there may have been other contributing factors that are not as grave or devastating as Parkinson's.
Williams' death was felt by millions who were saddened because he was such a treasured personality; known for his wired but compassionate personality. As the author of this opinion piece and an ardent follower, I want to believe that what Williams could not face was the possibility that he might become so incapacitated that he would ultimately end-up disappointing his fans. For many of his admirers it seemed that creating joy and laughter was his life's ambition; the thought of not being there for devoted fans may have been unbearable for him.
Williams' widow stated that he wanted to create hope for others. It is likely no comfort to anyone who admired him or to any of his family members, but it is likely, from the information gleaned from his vocal frequencies, that Williams, like so many others with Parkinson's-like symptoms, was misdiagnosed.
There is more to the story that Vocal Profiling can reveal. The Institute of BioAcoustic Biology & Sound Health, under the tutelage of Sharry Edwards, MEd. is preparing a lengthy report for release through their web site: http://www.SoundHealthOptions.com – under "IN THE NEWS" Edwards' has been acknowledged as the pioneer of Human BioAcoustic Biology by the Duke Encyclopedia of New Medicine.
*Frequency Equivalent™ = a term coined by Sharry Edwards meaning a numeric representation of any biological feature or function
Video link used for this evaluation:
http://dailycaller.com/2014/08/11/robin-williams-final-talk-show-appearance-video/
References
http://archives2014.gcnlive.com/Archives2014/aug14/PowerHour/0813142.mp3
http://archives2014.gcnlive.com/Archives2014/aug14/PowerHour/0815143.mp3
http://www.latimes.com/local/la-me-williams-parkinson-20140815-story.html
Duke Encyclopedia of New Medicine , 2006, compiled by the Center for Integrative Medicine at Duke University, page 566.