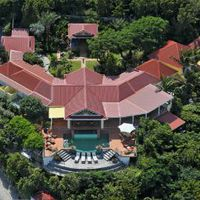 Pompano Beach, FL (PRWEB) August 21, 2014
"Steve Martin's Island Paradise"
Steve Martin's Caribbean vacation house in Saint Barthelemy is for sale and featured this week on the Top 10 Homes Spotlight at TopTenRealEstateDeals.com.
Saint Barthelemy, aka St. Barts or St. Barths, in the French West Indies has seen its usual compliment of celebrities this year. Some seen recently on the beach and in the shops and restaurants include Kate Moss, Naomi Watts, Jon Bon Jovi, Denzel Washington, Simon Cowell and Paul McCartney. Jay Z and Beyoncé are regulars. It is one of those places to kick back with your gin and tonic and the salt breeze sweeping up the hillside from the ocean below. A place where the government tries to assure that celebrities are protected from the tourist gaze and paparazzi and the very rich feel secure in letting their hair down. Luxurious boutique shops and over 100 restaurants offer some of the best shopping and dining in the world.
One such celebrity, Steve "Wild and Crazy Guy" Martin, has his own stunning and romantic vacation hideaway located high in the hills of Lurin, St. Barthelemy overlooking the island's pink-roofed homes, boat harbor and the Atlantic Ocean. The home has been a quiet getaway where Martin could write and create on "island time" instead of the frenzied Hollywood environment. Steve put it on the market last year and has recently given it a price cut.
The sprawling 28,191-square-foot, colonial-style home sits on a half-acre with four bedrooms with en-suite baths and outdoor showers that open to their own terrace through louvered floor-to-ceiling shutters. The master also has an outdoor shower and a hot tub on the private terrace. The entire compound is island style with beamed ceilings and walls opening to views of the ocean from practically every room, multi-level terraces and a two-tiered infinity pool. A caretaker's studio on the grounds makes it possible to place it in the rental market when not occupied by the owner. Its privacy, security and beauty are likely to attract another celebrity buyer or financial guru.
At age 69, Steve is one of today's most loved and versatile celebrities doing everything from writing comedy, plays, music and books to stand-up comedy to stage and film actor and musician. Steve just finished a bluegrass music and comedy tour with The Steep Canyon Rangers and Edie Brickell. Their last concerts were in Austin, Houston and Dallas where Edie's husband, Paul Simon, made a surprise appearance. Steve and Edie's brand new musical, "Bright Star," about a World War II soldier and the female editor of a southern literary journal set in the North Carolina Blue Ridge Mountains has its world premier in San Diego on September 13.
Steve Martin's Villa Au Soleil in Barthelemy, previously priced at $11.59 million, now listed at $10.623 million. The listing agent is Samuel Fahlberg of Sotheby's Realty.
Visit TopTenRealEstateDeals.com for more celebrity, historic, famous and spectacular homes.