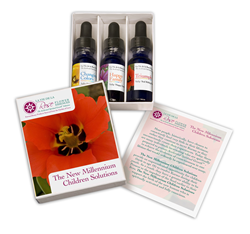 We are dedicated to supporting children to heal and resolve challenges in their youth. We're thrilled to have our work recognized a second time by Creative Child Magazine!
Grand Rapids, MI (PRWEB) August 20, 2014
Flower essences are a profound form of energy medicine (oral tinctures) and our mission is to support people to transcend the limitations of the past and discover and express their highest potential...at an accelerated pace.
We are pleased to announce that The New Millennium Children Solutions, our new flower essence set for children birth to age 18, has won a 2014 Creative Child Magazine Preferred Choice Award. This is the second Creative Child Magazine Award for La Vie de la Rose Flower Essences. In 2012, The Balanced Child Solutions for children birth to age 12 won a Seal of Excellence.
Launched in July 2014, The New Millennium Children Solutions includes three flower essences: Changing Colors, Happy Family and Triumph.
Learn more about The New Millennium Children Solutions Here
Creative Child Magazine is a national bi-monthly publication that provides parents with the latest information on how to nurture their child's creativity. It is essential and the most complete parenting publication for raising well-balanced children. The Creative Child Magazine's Awards Program is unique in that all products submitted are reviewed by moms and early education professionals.
Learn more about the Creative Child Magazine Awards
About La Vie de la Rose Flower Essences
Established in 2006 by Founder and President Dr. Natalia Schotte, La Vie de la Rose Flower Essences is a Michigan, USA-based women's collective dedicated to creating products and services to accelerate the spiritual growth of humanity. Accelerated Spiritual Growth™ is a unique concept developed by Dr. Schotte and one for which we own the registered trademark.
Dr. Natalia Schotte is a pioneer and visionary in the fields of Spiritual Growth and Spiritual Healing. She has been an internationally acclaimed counsellor, healer, intuitive, speaker and teacher for over 25 years. Dr. Schotte holds a Ph.D. in Spiritual Counselling from The Open International University for Complementary Medicines. Dr. Schotte is ordained through the International Council of Community Churches. She earned her Bachelor's and Master's degrees in Industrial Relations from the University of Toronto.