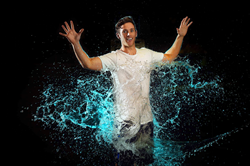 Most people are pretty amazed when they see it. - Lewis Pitchford of Threadsmiths
Melbourne, Victoria (PRWEB) August 20, 2014
Melbourne based company Threadsmiths has solved the age old problem of stained white T-Shirts by synthesizing a fully hydrophobic T-Shirt. The first in the world to be commercially available to the public.
Dubbed "The Cavalier" the 100% cotton shirt incorporates a hydrophobic nanotechnology, inspired by nature that completely repels dirt and liquids, leaving the surface of the fabric crisp, dry, and without stains.
While other white tshirts are stained and ruined by liquids such as coffee and wine, "The Cavalier's" hydrophobic properties cause liquids to beadup and fall off the fabric cleaning the fabric in the process.
Lewis Pitchford of Threadsmiths' said "Most people are pretty amazed when they see it."
Attached is a link to the "The Cavalier" being tested for stain resistance against red wine. https://www.youtube.com/watch?v=GlHJhz6bqM0
Designed in collaboration with a creative director who has experience working with some of the largest fashion brands in the world, The Cavalier is a stylish and versatile basic with the added advantage of being stainproof.
It is fully machine and hand washable, and will retain its hydrophobic properties for up to 50 washes. These hydrophobic properties can be reactivated with a single tumble dry every few washes.
While super-hydrophobic technology has previously been synthesised into a spray on application, these aerosols completely destroy fabrics and have been known to contain carcinogenic chemicals. Threadsmiths' patented fabric nanotechnology is free of these carcinogens and is completely safe for regular wear.
Threadsmith plans to work with other designers to expand the technology exhibited in The Cavalier to other articles of clothing and industries including medical, hospitality and sports.
Threadsmiths' "The Cavalier" superhydrophobic T-Shirt is available now for purchase on their website: http://www.threadsmiths.com.au.