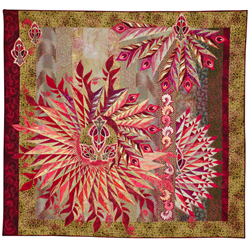 Grand Rapids, MI (PRWEB) August 20, 2014
American Quilter's Society, the largest quilting membership organization in the world, is pleased to announce the winners of the AQS Quilt Contest. Over $50,000 in prizes will be awarded to the winners at AQS QuiltWeek® - Grand Rapids, MI, taking place from August 20 to August 23 at the DeVos Place Convention Center, 303 Monroe Ave NW, Grand Rapids, MI 49503.
As part of the American Quilter's Society's celebration of quilting excellence, the contest recognizes the skill and creativity of today's quiltmakers, as artists compete in the AQS Quilt Contest for more than $50,000 in cash awards. Entries come from around the world to compete in 13 different categories. This year's winners come from sixteen different states and two different countries, with several prize winners from the host state of Michigan. These winning quilts will astound the 15,000 quilters expected to visit AQS QuiltWeek in Grand Rapids, this week.
The AQS Quilt Contest Prizewinners are as follows:
Best of Show Award
RED FEATHERS, Claudia Clark Myers and Marilyn Badger, Duluth, Minnesota (#4077)
Best Bed Quilt Award
BIG BERTHA, Margaret Solomon Gunn, Gorham, Maine (#2010)
Best Hand Workmanship Award
MY VERSION OF A PERSIAN, Christine Wickert, Penfield, New York (#3021)
Best Home Machine Workmanship Award
FOLK ART MEETS FREE MOTION, Joanie Zeier Poole, Sun Prairie, Wisconsin (#2023)
Best Longarm/Midarm Machine Workmanship Award
ROSES FOR KATRINA, Gail H. Smith, North Barrington, Illinois (#4099)
Best Modern Quilt Award
KEEP IT SIMPLE, Jodi Robinson, Enon Valley, Pennsylvania (#5015)
Best Wall Quilt Award
PELICAN PARADE, Joanne Baeth, Bonanza, Oregon (#4004)
Bed Quilts - Quilter's Choice
First - THE FABRIC OF OUR LIVES, Leslie Stevenson and Anne Haussmann, Lakeland, Florida (#1017)
Second - WORDS TO LIVE BY, Linda Hrcka and Lisa Bongean, Homer, Michigan (#1007)
Third - ISABELLE, Kathi Carter, Vineyard, Utah (#1004)
Hon. Mention - PROCRASTINATOR'S REVENGE, Marcia Hollopeter, Mason, Michigan (#1006)
Bed Quilts - Made by Machine
First - GREG'S SONG, Linda V. Taylor and Cheri Meineke-Johnson, Etna, Wyoming (#2029)
Second - COMPLEX IRISH CHAIN, Beth Nufer, Brookings, Oregon (#2020)
Third - SEDONA STAR, Jackie O'Laughlin, Germantown Hills, Illinois (#2021)
Hon. Mention - WINDMILLS OF MY MIND, Mary Kay Price, Lake Oswego, Oregon (#2024)
Wall Quilts – Hand Quilted
First - WAITING FOR THE MAIL, Mary Wilber Wirchansky, Schenevus, New York (#3022)
Second - HADASSAH, Audra Rasnake, Meadowview, Virginia (#3015)
Third - PLAYING IT, Pam J. Beal, Mass City, Michigan (#3001)
Hon. Mention - MY TRUE LOVE, Debra Ramsey, Lexington, Ohio (#3014)
Wall Quilts – Machine Quilted
First - ZEN GARDEN, Margaret Solomon Gunn, Gorham, Maine (#4039)
Second - WANDERING 'ROUND MY WORLD, Beth Schillig, Columbus, Ohio (#4094)
Third - SHADES, Pat LaPierre, Bass Harbor, Maine (#4063)
Hon. Mention - THE SHELL COLLECTOR, Bethanne Nemesh, Allentown, Pennsylvania (#4078)
Wall Quilts – Modern
First - THE LONG WINTER, Catherine Redford, Naperville, Illinois (#5014)
Second - VARIEGATED, Paige Alexander, Easley, South Carolina (#5001)
Third - UNRAVELING #2, Judy Mercer Tescher, Pendleton, Indiana (#5018)
Hon. Mention - SNOWFALL, Leanne Chahley, Edmonton, Alberta, Canada (#5003)
Ultimate Guild Challenge
First - JUST WINGING IT, Tuesday Night Friends, Ann Arbor, Michigan (#6014)
Second - EVERGLADES: ABOVE AND BELOW, Out-of-the-Box Design Group, Jupiter, Florida (#6006)
Third - FROM SEA TO SHINING SEA: A SNAPSHOT OF AMERICA, Salt Creek Quilters Guild, Naperville, Illinois (#6010)
Hon. Mention - WHAT WOULD YOU HANG ON A WOODEN PEG?, Des Moines Area Quilters Guild, West Des Moines, Iowa (#6002)
Young Textile Art Challenge
2014 AQS QuiltWeek® - Grand Rapids
First #006 WINTER IS COMING, Miriam Coffey, Lake Junaluska, North Carolina
Second #002 PROCESS, Anastasia Greer, Marquette, Michigan
Third #004 COSMOS, Karlee Porter, Clinton, Utah
All of the winning quilts, as well as the semi-finalist works, will be on display at the DeVos Place Convention Center for the remainder of the week. In addition, AQS QuiltWeek will be hosting a number of other special exhibits , workshops with some of the top talent in the quilt industry, and an extensive merchant mall comprised of both local and national vendors.
Admission to AQS QuiltWeek is $14 per day and tickets can be purchased at the door. Multi-day tickets are available. Hours are Wednesday through Friday, from 9 a.m. to 6 p.m., and Saturday from 9 a.m. to 5 p.m. Ticket and additional information can be found at quiltweek.com or by calling 1-270-898-7903.
About the American Quilter's Society
The American Quilter's Society is the largest quilting membership organization in the world. For 30 years, AQS has been the leading voice in quilting inspiration and advice through a broad suite of products-magazines, books, live events, contests, workshops, online networks, patterns, fabric, and catalogs. At AQS, we believe that with inspiration and advice, the creatively-minded individual can take their quilting projects beyond what even they had imagined. The leading authors in quilting choose to publish with AQS; the best in quilt artistry select AQS events to display their work; the newest quilters learn from the knowledge and inspiration of AQS members. For more information on the American Quilter's Society, please visit http://www.americanquilter.com or call 1-270-898-7903.