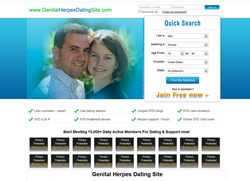 Genital Herpes Dating Site
Los Angeles, California (PRWEB) August 21, 2014
For those with genital herpes, it can be very frustrating trying to meet others to date or establish a relationship with. Sometimes, it can be a case of trial and error looking for that special person.
However, to help those with the virus looking to really find someone special…, someone like them, that understanding person who may or may not also have genital herpes, a brand new dating service especially for those with genital herpes called:
Genital herpes dating site, has recently been launched.
It's a well established fact that there are literally millions of people living with genital herpes and/or HPV throughout the world, but the same issues come up again and again: how do those with the virus find someone to love, someone to trust? And how will they know if that other person is compatible in terms of character, background, even educational levels?
On genitalherpesdatingsite.com it's possible for members to meet new friends, partners, lovers or potential spouses, and finally get to move on with their life. In addition, they can or learn more about the causes of genital herpes and/or HPV, plus seek other useful medical information.
By using this dating site especially for people with genital herpes there will be no worry about being rejected or discriminated against because other members usually also have the virus, or maybe another related disease for that matter.
Those with genital herpes can look for and be matched only with others who also have herpes and/or a HPV condition, and truly don't have to worry about the possible heartbreak which could accompany regular dating when an unaffected partner finds out.
Genitalherpesdatingsite.com offers an exclusive and completely confidential dating and support community for people with genital herpes. It's a safe place where anyone can find friendship, understanding, support and, hopefully, true love! Members can anonymously contact other singles from all over the world who share genital herpes and/or HPV, regardless of race or gender.
The founder of the owning company of the website said, "There are so many other portals out there in cyberspace which offer very little value to their members as many of the listed profiles are not real. Here at genitalherpesdatingsite.com even before registering you can browse the forums and read the blogs to get a feel of the type of community willing to help members with their dating needs."
Amongst other things, Genitalherpesdatingsite.com is free to join and has an extensive data base of like minded people. This community provides its users with a discreet, comfortable way of communication and a private place to meet on the web.
To know more, have a good look around the site: http://www.Genitalherpesdatingsite.com