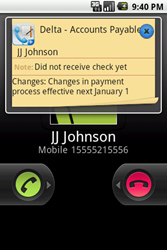 Duluth, Georgia (PRWEB) August 26, 2014
Taking notes during a phone call hasn't kept up with the times, and all too often people are left scrambling for paper and pen. TalkNotes Plus is the versatile app for Android smartphones that allows users to capture and store conversation notes relating to contacts; those notes can then be instantly retrieved. Through TalkNotes Plus, users are able to enter text as well as other related data while calls are still in progress. Call information, note taking, search and appointment scheduling are all seamlessly linked and organized. To download this free app, visit Google Play.
TalkNotes Plus opens up new possibilities for organizing communication, allowing users to integrate new and existing information together seamlessly even under hectic conditions. According to 2014 Pew Research, "44% of cell owners have slept with their phone next to their bed because they wanted to make sure they didn't miss any calls, text messages, or other updates during the night." When users opt for TalkNotes Plus, they instantly know who and what a call is about even if it arrives when they are completely unprepared.
The app has received many rave reviews to date. For example, Athena wrote, "Finally, someone understood what it takes to be organized and to get through the chaos. A 5 star program for sure." Another user named Ashley commented, "If you are like me and constantly feel the need to organize your contacts and know what the last conversation was about this is the app for you." These are just a few recommendations from users who have had TalkNotes Plus dramatically improve their productivity.
Pew research also shows that "34% of all users are 'mobile only,' meaning they use only their mobile devices and have no other computer or telephone." As TalkNotes Plus ties calls in directly with text, it is ideal for those who only use their phone on a day-to-day basis.
One of the app's many features is the ability to add information to a given contact's caller ID. This means relevant details regarding past conversations as well as a caller's company, position and other special notes can all appear instantly when a call comes in. The TalkNotes Plus app can even be used to create to-do lists. Worrying about losing all of this valuable data is a thing of the past, as TalkNotes Plus automatically backs up everything to the Cloud.
About MobileAppTek
Founded in 2009 by a group of experienced developers, MobileAppTek has been dedicated to the development of notes for business and safety mobile. TalkNotes Plus is the premier notes application providing businesses a new level of notes functionality. For more information, visit http://www.mobileapptek.com/talknotes/index.html