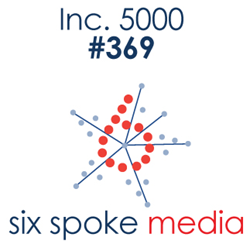 San Francisco, CA (PRWEB) August 21, 2014
Inc. Magazine has ranked Six Spoke Media NO. 369 on its 33rd annual Inc. 500|5000 list, an exclusive ranking of the nation's fastest-growing private companies. The list represents the most comprehensive look at the most important segment of the economy—America's independent entrepreneurs. With this designation, Six Spoke Media, a performance-focused, global digital ad agency, shares a pedigree with companies such as Yelp, Zappos, Pandora, Timberland, Patagonia, Microsoft, LinkedIn, Oracle, Zillow, and many other well-known names who gained early exposure as members of the Inc. 500|5000.
Six Spoke Media secured the 369th spot in its first year of eligibility with a three-year sales growth of 1,291%. The 2014 list includes powerhouses such as GoPro, Tealium, Tough Mudder, and Lending Club.
"This award is a testament to the uniqueness of our performance-focused ad consultancy model as well as the dedication of the amazing group of incredibly talented team members that make up Six Spoke Media," says Edward Kim, CEO of Six Spoke Media.
The Inc. 500 is one of the most prestigious business rankings in the world, compiling the fastest growing privately held companies, measured by overall revenue growth over a three-year period, in the United States. To simply make the list this year, a company had to grow by more than 942% from the start of 2011.
With this designation, Six Spoke Media is featured in Inc.'s flagship September issue as well as online at: http://www.inc.com/inc5000. In the print issue, CEO Edward Kim is featured in two full-page features. "In 2009, we were nobodies", says Kim on the first editorial page of the issue (page 11). A full-page feature on Kim's partnership with Sony Pictures, the first Fortune 500 company to partner with Six Spoke Media, is detailed on page 134.
The Inc. announcement coincides perfectly with another major milestone for Six Spoke Media. On August 28, 2014, the company celebrates their fifth anniversary at a western saloon themed event at Taverna Aventine in San Francisco's Financial District.
About Six Spoke Media:
Six Spoke Media is a full-service, digital marketing agency and consultancy with integrated marketing experts specializing in brand development, media planning, search engine optimization (SEO), pay-per-click (PPC), email and marketing automation, social media, ecommerce, web development, video, creative services, data analytics, and strategy consulting. Six Spoke Media has physical offices in San Francisco Bay Area, Los Angeles, Dallas, and New York City, with capabilities in the top 15 GDP markets through our extended global team. To learn more about Six Spoke Media, visit http://www.sixspokemedia.com, or contact us at info(at)sixspokemedia(dot)com, 415.710.6182.
About the Inc. 5000 Event:
The annual Inc. 5000 event honoring all the companies on the 2014 list will be held from October 15 – 17 in Phoenix. This year's speakers include some of the greatest entrepreneurs of this and past generations, such as Michael Dell, Martha Stewart, host of the CNBC show "The Profit" Marcus Lemonis, Container Store Founder and CEO Kip Tindell, and Chobani Founder and CEO Hamdi Ulukaya.