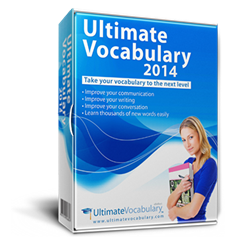 To build vocabulary in the shortest possible time it is important to practice with a high quality vocabulary builder software...
New York City, NY (PRWEB) August 21, 2014
eReflect has just published a comprehensive overview of several Ultimate Vocabulary™ reviews given by Top Ten Reviews, Word-Buff, and eReflect's own director, Marc Slater. This compilation is designed to offer people a comprehensive representation of what the program entails and what it's capable of when it comes to vocabulary improvement.
To build vocabulary in the shortest possible time, it is important to practice with a high quality vocabulary builder software, eReflect reports. Top Ten Reviews and their editorial team believe that Ultimate Vocabulary is such a software system. In their in-depth review of the program, the editors at Top Ten Reviews decided to award the 2014 Excellence Award to eReflect and Ultimate Vocabulary. The reviewers gave a total score of 9.9 to Ultimate Vocabulary, proof of its unmatched effectiveness in improving the user's vocabulary easily and quickly.
Word-Buff, another review site that specializes in language matters, has also favorably reviewed Ultimate Vocabulary™. For Derek McKenzie, owner and manager of Word-Buff, Ultimate Vocabulary is not equaled by any other similar product on the market at the moment. He characterizes the program as "a sophisticated vocabulary builder" that outmatches all the competition.
In a recent interview, eReflect's director, Marc Slater, talked about Ultimate Vocabulary™ and the benefits it grants people simply by helping them improve their vocabulary and enrich their mental storehouse of words and concepts. An eReflect representative commented on the theory and science behind the software today, saying, "To improve your vocabulary is to allow yourself to communicate clearly and compellingly. The richer your lexicon, the more complex your thinking and more intricate the ideas you come up with. A rich vocabulary is more than knowing impressive words no one else does, it's about having more tools and resources to think and talk with."
Marc Slater emphasizes in his interview how building vocabulary is a timeless investment people can make which will pay off many times over, providing both tangible and intangible benefits that far outweigh the market price of the software.
eReflect hopes these reviews of Ultimate Vocabulary™ will be useful to blog readers who are looking for ways they can enrich their vocabulary and improve their communication skills by speaking more accurately, confidently, and colorfully.
***********
For more information on how you can benefit from Ultimate Vocabulary, please visit its official website, http://www.ultimatevocabulary.com.
About Ultimate Vocabulary™
Ultimate Vocabulary provides a proven and powerful platform built to improve anyone's vocabulary.
The interactive self-improvement system provides more learning tools than any other program on the market as well as more information on words.
The Ultimate Vocabulary software provides each and every user with a personal computer tutor. Providing a step-by-step guide to learning a powerful vocabulary, Ultimate Vocabulary is the learning tool everyone can benefit from.
Of course, the software is also backed by eReflect's iron-clad money back guarantee.