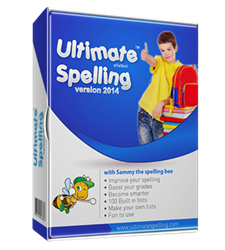 Students get to enrich their vocabulary, learn how to correctly pronounce words, and how to use the words they are learning to spell in the right context.
New York City, NY (PRWEB) August 22, 2014
eReflect, developer of Ultimate Spelling™, announces today that its best-selling spelling program, Ultimate Spelling™, is now officially featured in Learnteria.com's Classroom Resources listing. Learnteria.com considers Ultimate Spelling to be an effective tool that helps children learn to love spelling and actually want to learn how to spell. By letting kids see spelling is fun, Ultimate Spelling™ helps them master this important language skill by sparing them tedious, repetitive activities.
eReflect is proud to have its educational software for children featured in Learnteria's classroom resources page. The company believes that more educators will learn about the spelling software and integrate it in their classes to help their students learn how to spell correctly. In addition, teachers who have already integrated the software in their lessons are encouraged to share their experience with the rest of Learnteria.com community.
Ultimate Spelling™ has been scientifically designed to make spelling fun and interactive. eReflect believes that in order to engage children in the learning process they need to be immersed in a user interface that's intuitive and easy to navigate. Children need to practice with activities and games they find funny, interesting and competitive. In this manner, learning takes place in a smooth, almost imperceptible manner, leaving teachers satisfied with their students' results, and students pleased with and confident in their spelling mastery.
According to Learnteria.com, Ultimate Spelling™ is more than a tool to improve spelling; it helps children improve all aspects of their language skills in a fun way. Students get to enrich their vocabulary, learn how to correctly pronounce words, and how to use the words they are learning to spell in the right context. In this light, Ultimate Spelling™ is essentially a language improvement program with an emphasis on orthography.
eReflect urges the educators visiting the Learneteria.com community to have a look at the features and tools Ultimate Spelling™ has to offer. As the eReflect representative concludes, "Ultimate Spelling can be easily integrated in the classroom for more enjoyable spelling practice."
***********
For more information about how Ultimate Spelling software can improve spelling performance for you and your family, please visit the official website at http://www.ultimatespelling.com.
About Ultimate Spelling™
Ultimate Spelling provides a modern and easy to use spelling software that has been designed with one goal in mind – making children want to learn.
It is a fast and easy way to master even the most complicated spelling, without the need to write long lists or complete boring tests.
In fact, Ultimate Spelling provides more than just spelling help. It is a complete educational resource that boosts all level of a child's literacy.
Containing a personal computer tutor, Ultimate Spelling is the most realistic step-by-step guide to flawless spelling ability.