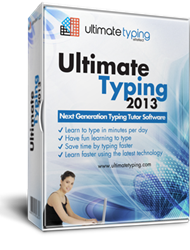 Typing mastery is often believed to be a skills that is difficult to gain, one that requires hours of practice to fully realize.
New York City, NY (PRWEB) August 23, 2014
eReflect, developer of Ultimate Typing™ software, shares some widely applicable tips on how to master touch typing in a short time.
Typing mastery is often believed to be a skill that is difficult to gain, one that requires hours of practice to fully realize. eReflect asserts that this is not the case, especially when learning how to touch type using a powerful touch typing program like Ultimate Typing™.
Typing skills can be mastered easily when the first step is taking the right approach to the learning process. Instead of starting with typing games and activities that focus only on entertainment, it's important to first learn the basic techniques that underlie true keyboarding excellence, notes eReflect.
What is more, a keyboarding learner needs to track their progress at frequent intervals to ensure they are aware of their learning progress at all times. This will allow them to adjust their practice to better suit their typing level and needs, and help them focus on reaching their speed and accuracy goals. eReflect recommends checking typing efficiency after each practice session, or at the end of each week of practice. Users need to check for improvement, but also for possible weaknesses. There are several online tests that can be used to test typing progress, and these evaluations are also built into good typing software programs.
Not everyone is fond of typing practice, eReflect admits, especially those people who prefer independent learning and who don't want someone to teach them how to type fast because they prefer to study on their own terms. However, with customizable software, there are alternatives that allow for guided study as well as self-directed lessons. eReflect recommends that independent learners who are not using software with built-in progress monitors keep a journal with their statistics. Another good way to practice, say the developers, is to create a blog to use as a free-form platform to practice typing skills. Because the independent learner doesn't regard this as a practice but simply as a communication medium, this keeps them motivated to keep practicing the skill.
Typing skills can also be improved in a general way by looking at it as an existing skill rather than a new one. In other words, says eReflect, people need to treat keyboarding as something they need to improve, not something they need to learn from scratch. This attitude is especially important for people who are already familiar with typing techniques and ergonomics, because the rest can be learned through a more informal process that can even be enjoyable. Virtually any digital communication and content creation entails touch typing, which means that even if formalized exercises are not part of a person's daily routine, they will still be getting the practice they need.
*********
For more details on Ultimate Typing™, please visit http://www.ultimatetyping.com/.
About Ultimate Typing™
Ultimate Typing™ software is designed specifically for the improvement of typing skills. Created by eReflect, a world leader in e-learning and self-development software, Ultimate Typing™ has been informed by the latest developments in the science of touch typing.
Since its creation in 2006 by Marc Slater, the company has already catered to over 112 countries all over the world, offering products with the latest cutting-edge technology, some of which are among the world's most recognized and awarded in the industry.