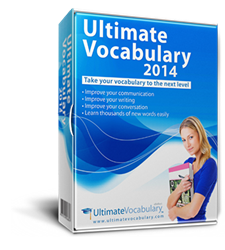 ...increase their vocabulary and linguistic knowledge of new words so that they can be proficient users of the English language.
New York City, NY (PRWEB) August 24, 2014
eReflect, developer of the Ultimate Vocabulary™ program, is proud to announce the new partnership it has entered into with Learnteria.com, an educators' website that offers reviews, listings, and ratings of a plethora of educational tools, libraries, and books.
Vocabulary software Ultimate Vocabulary™ helps students increase their vocabulary and linguistic knowledge of new words so that they can be proficient users of the English language. As a vocab builder, Ultimate Vocabulary™ is a communication facilitator, allowing students and adults to expand their working lexicon so that they can more easily and effectively communicate their thoughts, ideas, and needs.
Learnteria.com has established itself as a go-to resource for the global educational community. When asked to comment on Ultimate Vocabulary™, the editors of the site remarked that by using eReflect's product, the learner gets "[m]ore powerful vocabulary words than any other program" and "[m]ore interactive ways to learn than any other program."
Ultimate Vocabulary™ "helps you build your vocabulary through a gamut of activities, games, and lessons, all designed to deepen students' knowledge of English words," said an eReflect representative today.
Ultimate Vocabulary™ has already helped thousands of students, both native English speakers and those learning English as a second language. It has helped them improve their written and verbal communication skills, giving them the confidence and practical tools they need to deliver their message in any given situation. By providing in-depth knowledge of words, the program helps students overcome any feeling of self-consciousness due to a limited and limiting linguistic capacity.
With the help of vocabulary building software, students and teachers have a professional tool to work with, one that lets them see that vocabulary practice can be fun and interactive. Language learning can become repetitive and boring for students but thanks to technological improvements vocabulary software has come a long way, becoming a tool that is engaging and fun to practice with. As proof of this, eReflect points to the increasing number of schools integrating educational software and apps into their classes.
Ultimate Vocabulary is designed for an across-the-board vocabulary practice; it can be used for at-home vocabulary expansion sessions and in the classroom as a complementary activity for students of all ages and English competency levels. eReflect's partnership with Learnteria will inform the global educational community about Ultimate Vocabulary, and the company encourages schools to inquire further for more details on how the software can be used in the classroom.
***********
For more information on how you can benefit from Ultimate Vocabulary, please visit its official website, http://www.ultimatevocabulary.com.
About Ultimate Vocabulary™
Ultimate Vocabulary provides a proven and powerful platform, built to improve anyone's vocabulary.
The interactive self-improvement system provides more learning tools than any other program on the market, as well as more information on words.
The Ultimate Vocabulary software provides each and every user with a personal computer tutor. Providing a step-by-step guide to learning a powerful vocabulary, Ultimate Vocabulary is the learning tool everyone can benefit from.
Of course, the software is also backed by eReflect's iron-clad money back guarantee.