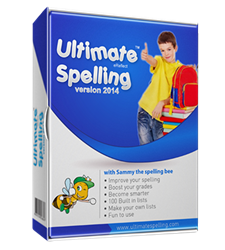 Learning to spell shouldn't be a tedious process but instead one that's fun and interesting.
New York City, NY (PRWEB) August 25, 2014
Ultimate Spelling™ developer eReflect endorses the learning tips shared by LearningRX which focus on how to effectively stimulate children's brains. For LearningRX, the right stimuli can help improve brain anatomy and physiology, which have the potential to allow children to make the most out of their cognitive skills and power at any given moment.
eReflect finds the tips shared by LearningRX crucial for parents and educators who wish to give their children the right tools to cope with their cognitive challenges.
One of the tips shared by LearningRX in a recent issue of the Naperville Sunday Times is that drills help children's brain create strong pathways, due to their repetitive nature. At the same time, the repetition helps grow the surrounding brain area for advanced cognitive function. eReflect's spelling program, Ultimate Spelling™, illustrates this approach. The program uses repetition drills to help learners fully master a word, and at the same time it offers the learner the full scope of linguistic information on any given word. The learner gets to know a word's spelling, pronunciation, and meaning, as well as its synonyms and antonyms, and even how to correctly use it in the right context.
Even if it involves repetition, learning to spell shouldn't be a tedious process but instead one that's fun and interesting. This way a child's brain is engaged and constantly stimulated, and this helps them have better learning outcomes. By showing children that spelling is fun, they will be eager to practice more. While there's always a certain amount of repetition in spelling practice, this doesn't mean it has to be boring, eReflect observes. To guarantee this, the spelling practice in the Ultimate Spelling™ program is always structured to include games and other fun activities. Ultimate Spelling™ offers plenty of spelling games to learners so they will always something fun and intriguing to look forward to when it's time for spelling practice.
Another tip shared by LearningRX is sequencing, the activity of gradually increasing the difficulty of a given task. Sequencing keeps the brain active and intrigued, just like games do, and increases the ability of the brain to remember what is being learned. Spelling software Ultimate Spelling™ implements the sequencing principle in all aspects of the program. The learner gets a personalized learning experience that becomes gradually more challenging to ensure maximum learning efficiency.
For more information about how Ultimate Spelling software can improve spelling performance for you and your family, please visit the official website at http://www.ultimatespelling.com.
About Ultimate Spelling™
Ultimate Spelling provides a modern and easy to use spelling software that has been designed with one goal in mind – making children want to learn.
It is a fast and easy way to master even the most complicated spelling, without the need to write long lists or complete boring tests.
In fact, Ultimate Spelling provides more than just spelling help. It is a complete educational resource that boosts all level of a child's literacy.
Containing a personal computer tutor, Ultimate Spelling is the most realistic step-by-step guide to flawless spelling ability.