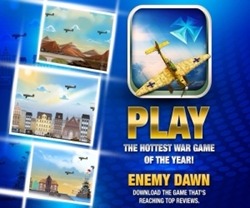 A Game With A Twist Of History
Greenwich, Connecticut (PRWEB) August 21, 2014
The developers of the game at Simplus Technologies came up with the name Enemy Dawn because it symbolizes the Nazi invasion of Poland. This invasion took place at around 4:30 am on September 1,1939 and marked the beginning of World War II.
The game opened worldwide in the Apple Store on August 6, 2014 with great fanfare. A free version of the game will be release soon. As a soldier in the Polish Army, the player commands a mobile rocket launcher to defend Poland against an onslaught of enemy weapons. The player must defeat the Nazis to prevent the new world order. The game has the player fighting off Ju-87 Stuka Aircraft attacks streaking loudly across the sky, Panzer Tanks and the famous German battleship Schleswig-Holstein that fired some of the first shots of the war. What makes the game unique is that it's a game with a twist of history to it. It also has a famous landmark from that era such as the Crane Gate. This new app is a single player action game.
Enemy Dawn has five levels of game play with mild violence rated for +12 age group. The game has a demo video made by the daily app show about the gameplay. It's supported in four languages English, Spanish, Chinese, and Japanese. There will be free and paid versions of the game. Initially,it will be released for the iPad and iPhone.
Simplus Technologies Group has had great success with previous apps, launching their first app called Turbcast which was designed for fearful fliers. The Turbcast app was featured on Fox News TV network and in the USA Today Newspaper. It briefly reached within the top 100 category in the Apple Store.
Simplus is a small company with several employees that is a leader in mobile app development and multimedia. Simplus is confident our first game app Enemy Dawn will be a major success. After beta testing, we received overwhelmingly positive feedback. Simplus plans to work on a Android version of the app soon.
Listen to our podcast or watch more trailers for a glance of our gameplay.
iTunes download/ promo codes available on request for news reporters/ bloggers:
For media contact:
Eric Simmons, CEO
Media kit http://www.simplustg.com
http://www.enemydawn.com
Email: Ceosimplus(at)aol(dot)com
(877) 787-0607
###. ###. ###. ###. ###.