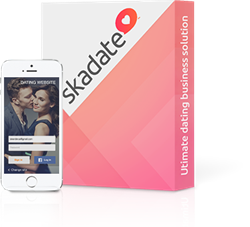 You get a clean-slate dating platform and can augment it with literally hundreds of plugins. Shape your site in any way you want - for any niche, direction, or vision.
Salem, OR (PRWEB) August 26, 2014
Skalfa LLC, the acclaimed veteran on the market of online dating solutions is proud to present the long awaited evolution of its flagship product - SkaDate X. The new software version is not simply an updated and repackaged script; it is already being recognized as a next-generation solution.
SkaDate X has been in development for several years, growing and improving its infrastructure, which fully utilizes the increasingly popular plugin system. From now on, online dating site owners don't have to be burdened with dozens of unnecessary settings and clunky interfaces, instead selecting only elements they truly need to better monetize, promote and visualize their concepts.
"For years we've been trying to find ways to make the handling and operating SkaDate simpler. And we finally did just that," said Skalfa CEO Emil Sarnogoev during the launch. "We give more freedom to our clients than ever before - with SkaDate X bigger companies can immediately build complex multi-functional portals, while startupers have an accessible and user-friendly way to enter the online dating industry".
SkaDate X is being released during an important era in Skalfa's history, as the company is celebrating its 10th anniversary this December. In the past decade various versions of SkaDate fostered the progress in the field of online dating solutions, paving the way for others to follow. Branching out to social networking, introducing newsfeed elements, setting standards with mobile applications, placing emphasis on location, etc., the development team is always on the lookout for fresh ideas, making SkaDate one of the most dynamic, flexible and complete online dating tools around.
A minor side-effect of this approach was the ever growing complexity of the software itself. With over fifty built-in features like Matchmaking, Games, User-credits, Photo/Video Uploads, IM Chat, Built-in SEO, Anti-spam control, etc., the day-to-day management of the solution was becoming slightly intricate for entry-level site owners.
As with many things in modern software development, the simple and elegant answer was found in Open Source. The code was significantly optimized and streamlined by employing an established and reliable platform. In turn, this allowed SkaDate X to take a giant leap forward, giving limitless possibilities for software expansion with free and paid third-party features, templates, and custom modification opportunities.
"The brilliance of open source is undeniable," says SkaDate Product Manager Zima Sanfilippo. "You get a clean-slate dating platform and can augment it with literally hundreds of plugins. Shape your site in any way you want - for any niche, direction, or vision."
The addition of the brand new native iOS application (pre-order for Android is currently open) is the icing on the cake. The sleek app was fully developed in-house from scratch and has all the essential functions of the desktop version. It even comes pre-packaged with a Tinder-like SpeedMatch feature for that extra zing to boost fun and interactivity.
The release of a new SkaDate version wouldn't be complete without new dating templates. The design team came up with an entire collection of over 20 of them to satisfy the variety of tastes and concepts (traditional, adult, social, or niche - everything is covered). The new Premium Access system now grants participating clients a life-time admission to all current templates and even future releases.
To celebrate the launch of SkaDate X, Skalfa LLC has temporarily lowered the price for the software package and mobile apps. Check out the remodeled SkaDate website for more details, or try the new SkaDate Demo to see the solution in action. Please contact SkaDate Live Pre-Sales Chat if you have any additional questions regarding SkaDate Master.