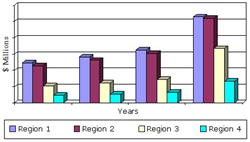 Global Market for Photonic Sensors and Detectors to Reach $15.2 Billion in 2019
Wellesley, Mass., (PRWEB) August 20, 2014
BCC Research (http://www.bccresearch.com) reveals in its new report, PHOTONIC SENSORS AND DETECTORS: TECHNOLOGIES AND GLOBAL MARKETS, the global photonic sensors and detectors market is expected to grow to $15.2 billion by 2019, with a five-year compound annual growth rate (CAGR) of 15.9%. Increasing industrialization is driving significant growth across the Asia-Pacific region.
With a rapidly expanding range of industrial applications such as military and border security, factory automation, transportation, biomedical, and oil and gas, the demand for products that use photonic sensors and detectors, is on the rise. Growth in this market is being driven by technological advances, increased functionality and accuracy, and developing industrial safety concerns.
The photonic sensors category, which includes fiber optic sensors, image sensors, and biophotonic sensors, dominates this market and is expected to reach nearly $13.5 billion in 2019, growing at a healthy CAGR of 15.8%.
However, the photonic detectors category, which comprises single photon counting modules, photodiodes, phototransistors, analog optoisolator and optocoupler and photocell detectors, is the fastest moving segment and is projected to reach $1.7 billion in 2019, growing at a CAGR of 16.7%.
"The photonic sensors and detectors market is expected to develop exponentially at a significant growth rate over the next five years," says BCC Research photonics analyst Pawan Kumar. "Most opportunities are driven by new applications as the technology finds greater utilization across a growing range of industries. However, high cost and lack of standards could act as a restraining factor on this market."
In geographic terms, North America is expected to dominate the overall market with projected revenues of $5.3 billion in 2019. However, the Asia-Pacific region is expected to move at a remarkable 22.4% CAGR. This growth is being driven by increased industrialization across this region, particularly in the emerging economies.
PHOTONIC SENSORS AND DETECTORS: TECHNOLOGIES AND GLOBAL MARKETS provides an overview of the global photonic sensors and detectors market. It includes analyses of global market trends, with data from 2013, estimates for 2014 and 2015, and projections of CAGRs through 2019.
Editors and reporters who wish to speak with the analyst should contact Steven Cumming at steven.cumming(at)bccresearch(dot)com.
About BCC Research
BCC Research publishes market research reports that make organizations worldwide more profitable with intelligence that drives smart business decisions. These reports cover today's major industrial and technology sectors, including emerging markets. For more than 40 years, we have helped customers identify new market opportunities with accurate and reliable data and insight, including market sizing, forecasting, industry overviews, and identification of significant trends and key competitors. We partner with analysts who are experts in specific areas of industry and technology, providing unbiased measurements and assessments of global markets. Our clients include the top companies in industries around the world as well as universities, business schools, start-ups, consulting firms and investment companies. BCC Research is a unit of Eli Research LLC. Visit our website at http://www.bccresearch.com. Contact us: (+1) 781-489-7301 (U.S. Eastern Time), or E-mail information(at)bccresearch(dot)com.
Data and analysis extracted from this press release must be accompanied by a statement identifying BCC Research LLC, 49-2 Walnut Park, Wellesley, MA 02481, Telephone: (+1) 781-489-7301; E-mail: editor(at)bccresearch(dot)com as the source and publisher. Thank you.