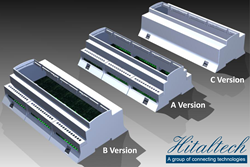 Through a concept of flexible tooling this standard DIN Rail enclosure range can be easily customised to meet specific requirements.
Poulton le Fylde, Lancashire (PRWEB UK) 22 August 2014
DIN Rail mounting enclosures from Hitaltech are successfully used when a quick solution is required and are particularly attractive when volumes are relatively small and spending tens of thousands of pounds on tooling is hard to justify.
There are however occasions when a design engineer will struggle to find a standard enclosure that is perfectly matched for their application. For example there may be problems in finding a standard enclosure that is the right shape and size to accommodate all the components, or when searching for an enclosure that has adequate provisions for input and output terminals, indicators and switches. There may also be issues surrounding the looks of the product and whether the enclosure is aesthetically pleasing and fits in with the corporate image of the company.
The Modulbox XT/XTS range of DIN Rail mounting enclosures have been developed to address all of these issues. Through a concept of flexible tooling this standard range can be easily and quickly customised without spending enormous amounts of money on tooling. It is possible to produce custom sizes, shapes and openings by simply changing selective parts of the mould tool, thus giving the design engineer the extra benefits of a quick, cost effective and application specific solution with the added benefit of designing a product in line with the corporate image of their company.
Modulbox :
The Modulbox XTS is a standard enclosure that meets the requirements of DIN standard 43880. Manufactured using UL94 V0 flame retardant PC/ABS material and now available from 2 to 12 modules wide, the product has been restyled to offer improved aesthetics and increased internal volume to accommodate larger components and/or improved airflow.
Three main types of enclosure are being offered.

Type A has a two step shape similar to the existing Modulbox range.
Type B has two steps on one side of the box and a high side on the opposing side.
Type C has high sides on both sides of the box, giving a significant increase in internal
volume.

Features across the range include wall mounting fixing holes, internal slots for mounting
vertical PCBs and optional ventilation slots.

A range of standard and customizable front panels and terminal covers are available.
Optional extras include custom colours, silk screening, laser marking, and a range of input
and output terminal blocks that can also be customized.
As well as offering a large range of standard enclosures, the new XT tooling concept enables custom inserts to be developed for all four sides of the enclosure, allowing customers to have their own unique design. Low cost custom inserts can be produced that allow openings to be created during the moulding process, thus eliminating the need for expensive machining.
Further information is available by visiting http://www.hitaltech.co.uk.