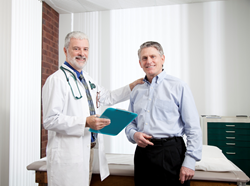 'We're more than halfway to our goal of a doctor in every state,' says Michael Lee of Progene. 'The network is just an extension of what we've already been doing for years.'
Cincinnati, OH (PRWEB) August 22, 2014
Following up to the original announcement a few weeks ago of Progene's launch of http://www.ProgeneHealthcare.com, enrollment has quickly grown with healthcare providers now in over half the states of the country.
"Such success does not surprise us," said Michael Lee of Progene. "We're more than halfway to our goal of a doctor in every state. The network is just an extension of what we've already been doing for years."
Progene® has been a practitioner's alternative for subclinical testosterone for well over a decade. Appealing to a variety of providers, Progene Healthcare Network now includes doctors in urology, geriatrics, family and integrative medicine.
Unlike synthetic, testosterone prescriptions, Progene® does not artificially boost levels; instead, Progene® is a natural solution that works with the body to support the increased production of healthy natural levels
Progene customers are signing up for free, too, enrolling because they have questions about low testosterone, treatment options and testosterone lab results. The customers are then provided a referral to a network provider close to home.
Such a system offers our healthcare professionals the extra benefit of a built-in patient base. "The network brings doctors and patients together," explains Michael Lee. "We make the process fast and easy, at no cost. Joining takes 30 seconds."
Time magazine's recent cover story, "Manopause," by David Von Drehle, brings up key reasons the Progene network was created in the first place.
Von Drehle discusses the thousands of doctors who "prescribe testosterone off-label for men with borderline low or even low-normal T levels".
Because doctors don't want to lose patients, they may feel compelled to break with FDA guidelines and prescribe something that they shouldn't, exposing them to potential liability. Recommending Progene® as a natural alternative to sub-clinical patients can help offset this liability.
Not only has Progene® been in market as a safe and effective natural solution for over 11 years, but also Progene® is the only brand in the country offering individually measurable results with an at-home saliva-based testosterone test kit.
Visit http://www.ProgeneHealthcare.com and see the value of becoming part of this growing national network of providers.
About Progene®
For over 11 years, Progene® continues to lead the market by addressing the decline of testosterone levels in men as they age. Progene®'s dual-action formula of over 15 rare herbal extracts and clinically proven testosterone precursors helps to provide men the ingredients they need to produce more testosterone.
Progene® continues to evolve and innovate. The addition of an At-Home Testosterone Test Kit gives men the opportunity to actually see for themselves what Progene® can do to help restore their Power, Performance & Passion®.
Progene® is currently sold nationwide at Costco, GNC Stores, Meijer, Stop & Shop, Bi-Lo Winn-Dixie, Vitamin Shoppe, Rite Aid, USADrug, Drugstore.com, Sears Marketplace, Harris Teeter Groceries, Brookshire's Food & Drug, Vitacost.com, LuckyVitamin.com, and more than 150 other local and regional retailers.
For more information about Progene® products, call 888-PROGENE, visit Progene.com, or go to facebook.com/800PROGENE.
PR Contact: Judith Hokanson 513-477-7973