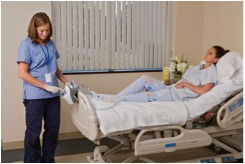 CLOTS 3 showed for the first time that thigh-length IPC reduces the risk of DVT after stroke, and moreover improved survival
Chicago, IL (PRWEB) August 21, 2014
Thigh-length intermittent pneumatic compression (IPC) significantly improves the survival rate of stroke patient, says a renowned stroke expert.
Venous thromboembolism (VTE), commonly referred to as blood clots in the legs or lungs, is a common and preventable cause of death and illness in hospitalized patients. Each year in the United States, it has been estimated that about 300,000 cases of VTE occur. Mortality can be as high as 3.8percent in patients with deep vein thrombosis (DVT) and 38.9 percent in those with pulmonary embolism (PE). VTE is associated with a high risk of death in the United States and Europe, with an estimated incidence rate of 1 in 1,000 patients. VTE is particularly common after a stroke. Approximately 20 percent of hospitalized immobile stroke patient will develop DVT, and 10 percent a pulmonary embolism (PE).
In discussing the CLOTS 3 study that he led, Martin Dennis, MD (University of Edinburgh, Western General Hospital) says that this landmark research will change the clinical practice to prevent DVT in stroke patients.
"CLOTS 3 showed for the first time that thigh-length IPC reduces the risk of DVT after stroke, and moreover improved survival," says Dr. Martin. "Therefore, I would expect its use to increase rapidly. Certainly in the UK there are national programs to introduce IPC into all stroke units; national stroke audits are monitoring its use."
The Clots 3 study was a large multi-center randomized controlled trial using thigh length IPC It showed that use of IPC was associated with a one-third reduction in the risk of proximal DVT and additionally a 14 percent in survival within six-months. The study's purpose was to evaluate the effectiveness of IPC in decreasing the risk of proximal DVT in patients who have had a stroke.
In discussing the broader implications of his study on the treatment practices for stroke patients, Dr. Martin said, "For immobile patients admitted to hospital after a stroke, we think that they should be offered IPC. However, where patients have had very severe strokes which are likely to lead to a very poor quality of life, if they survive, the appropriateness of using treatments like IPC which only aim to increase survival need to be discussed with patients and their families."
About Physician-Patient Alliance for Health & Safety
Physician-Patient Alliance for Health & Safety is a non-profit 501(c) (3) whose mission is to promote safer clinical practices and standards for patients through collaboration among healthcare experts, professionals, scientific researchers, and others, in order to improve health care delivery. For more information, please go to http://www.ppahs.org.