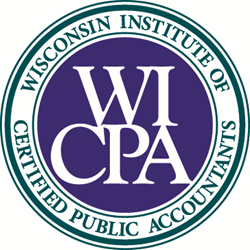 "The WICPA is thrilled to be honored with this award on behalf of our nearly 8,000 members who work in public accounting, industry, government, nonprofit and education in Wisconsin. Our members are strategic partners with many businesses in our state, and
Waukesha, Wis. (PRWEB) August 21, 2014
The WICPA is receiving the award on behalf of its members and the impacts they make on successful Wisconsin businesses.
"The WICPA is thrilled to be honored with this award on behalf of our nearly 8,000 members who work in public accounting, industry, government, nonprofit and education in Wisconsin. Our members are strategic partners with many businesses in our state, and we are very proud of their work," said Dennis Tomorsky, CPA, J.D., CGMA, president and CEO of the WICPA.
The WICPA (http://www.wicpa.org) is the premier professional organization for Wisconsin CPAs, with nearly 8,000 members working in public accounting, industry, government and education. Like other professionals, certified public accountants are required to obtain additional education, take a rigorous exam and become certified. Please identify all CPAs by including the credential with their names.
Since 1981, Wisconsin Business Development Finance Corp., a Certified Development Company (CDC), has been partnering with Wisconsin financial institutions and is proud to have funded more than $2 billion of community development projects, which have created more than 50 ,000 jobs statewide. Over the years, WBD has developed its expertise in finding finance solutions and strategies for small businesses looking to grow. WBD's staffs are located in nine offices across the state, and take a personal interest in each customer. For more information, visit http://www.wbd.org.
###